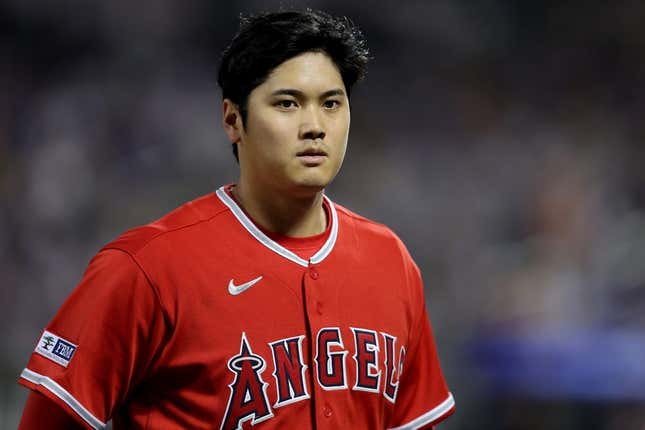 Los Angeles Angels general manager Perry Minasian told reporters Saturday that Shohei Ohtani declined to undergo imaging exams after experiencing cramping in his pitching hand and fingers during an Aug. 3 start against the Seattle Mariners.
How running an NFL team is like running a restaurant | Chef Emeril Lagasse
Ohtani departed that start after four innings and 59 pitches. Twenty days later, the two-way superstar tore the ulnar collateral ligament in his right elbow and might have to undergo his second career Tommy John surgery.
"The only time we had imaging was after he felt the injury (on Wednesday)," Minasian said. "The imaging was offered earlier in the year and him and his representation turned it down."
That revelation by Minasian could be an orchestrated move to shift blame away from how the Angels have handled the situation this month.
Ohtani and his representatives haven't commented since Wednesday's injury. Ohtani left after 1 1/3 innings and 26 pitches in the outing against the Cincinnati Reds.
The 29-year-old from Japan is weighing whether to undergo Tommy John surgery.
Complicating matters is that Ohtani is slated to become a free agent after this season.
Despite the serious injury, Ohtani is still serving as the Angels' designated hitter.
Minasian said he didn't have an issue with Ohtani and his representatives after their decision following the Aug. 3 injury.
"I understand why," Minasian said. "It was a cramp in his finger, and they didn't think it warranted imaging."
Minasian said there was no way to forecast that the cramping would later result in a torn UCL.
"Me, personally, I have zero regrets," Minasian said. "There's injuries that happen in baseball. This is an unfortunate one. It's obviously tough for us, tough for him and tough for the game."
The three-time All-Star and 2021 American League MVP was having perhaps his greatest season yet. Entering Saturday, he leads the majors in home runs (44), slugging percentage (.665) and OPS (1.074). He also has 91 RBIs, 23 doubles, seven triples and 81 walks.
Ohtani's career high for homers is 46 in 2021.
On the mound, he is 10-5 with a 3.14 ERA while holding batters to a .184 average. He has 167 strikeouts in 132 innings.
Ohtani underwent Tommy John surgery after the 2018 season and played in 106 games the following campaign. He did not pitch or play in the field, serving only as a designated hitter.
—Field Level Media