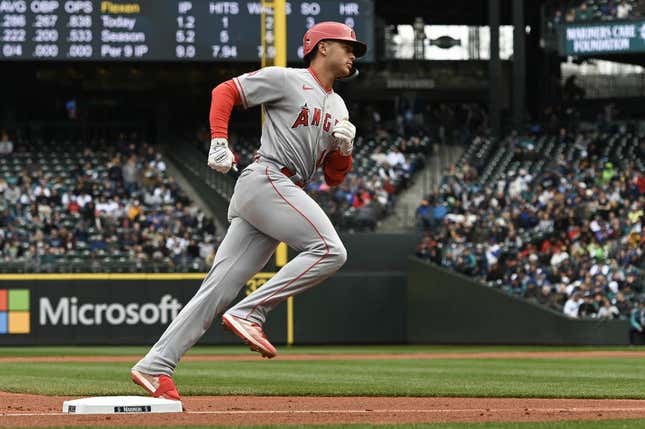 Logan O'Hoppe is expected back in the starting lineup Sunday afternoon for the Los Angeles Angels when they wrap up their three-game series against the Toronto Blue Jays in Anaheim, Calif
Air Jordans are more American than McDonald's French fries | Deon Cole's Ultimate Sports Fantasy
O'Hoppe was not in the lineup in Saturday's 9-5 win over the Blue Jays, simply a day off for the 23-year-old rookie who, at least for now, has assumed the club's starting catcher role
Projected starter Max Stassi had to leave the team a week before the end of spring training because of a family emergency. He then strained his hip in a minor league camp game upon his return and was placed on the injured list.
That opened the door for O'Hoppe, who has taken advantage of the opportunity so far. He's hitting .250 (5-for-20) with two homers, a double, eight RBIs and a .904 OPS in six games.
It's not a surprise, considering O'Hoppe hit .283 with 26 homers, 78 RBIs and a .961 OPS in 104 games at the Double-A level. The Angels acquired him from the Philadelphia Phillies in a trade-deadline deal for outfielder Brandon Marsh
O'Hoppe's offense, though, is not foremost on the mind of Angels manager Phil Nevin and his staff
"We told him before, 'Handle the pitching staff. Your offense is gonna be fine. We're not worried about it,'" Nevin said. "I don't really care about the offense right now. Maybe it helped him, I don't know. But he's taking good at-bats. He's leading our staff. I love the way he's handling these guys."
O'Hoppe will handle left-hander Reid Detmers on Sunday.
Detmers (0-0, 3.86 ERA) is coming off a no-decision in his first start of the season last Monday against the Seattle Mariners. Detmers, who is 1-0 with a 0.00 ERA in one career start against Toronto, gave up three runs (two earned) on four hits with seven strikeouts and three walks in 4 2/3 innings against the Mariners.
Left-hander Yusei Kikuchi (1-0, 1.80) will start for Toronto, coming off a victory in his first start of the season when he gave up one run and three hits in five innings against Kansas City. He is 1-4 with a 9.71 ERA in 10 career games (eight starts) against the Angels
Though Kikuchi has struggled against the Angels in his career, most of it came when he played for the Seattle Mariners. With the Blue Jays, he has the benefit of the offensive support of Vladimir Guerrero Jr
Guerrero went 3-for-5 on Saturday and is 5-for-9 in the first two games of the series. Overall, he's hitting .444 with a 1.151 OPS. As good as Guerrero has been in his young career, Blue Jays manager John Schneider said he is seeing an improved Guerrero this season, specifically with his pitch-selection discipline
"I think Vladdy right now, his overall game plan approach (and) the way he's approaching everything, is a little different than has been in years past," Schneider said. "So you know, we're looking for him to kind of keep doing what he's doing."
--Field Level Media