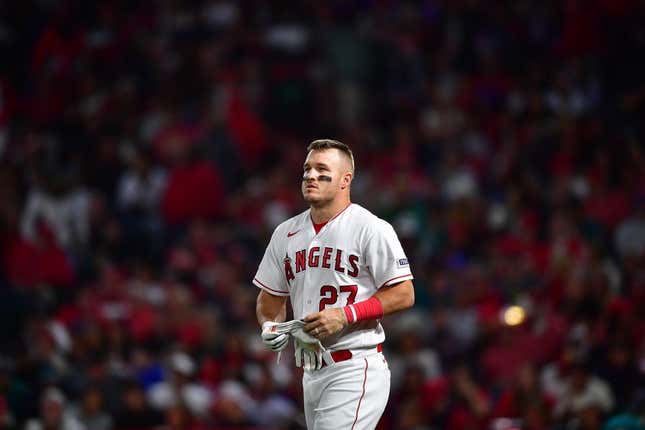 Mike Trout is expected to be in the lineup Sunday as the Los Angeles Angels host the Seattle Mariners in the rubber match of their three-game series in Anaheim, Calif
How running an NFL team is like running a restaurant | Chef Emeril Lagasse
While that's not exactly breaking news, Trout is 31 years old and playing in his 13th major league season. The three-time American League MVP and 10-time All-Star also hasn't been able to avoid the injured list in recent years.
Last season Trout was limited to 119 games because of a back condition. He played in only 36 games in 2021 because of a calf strain, and 114 games in 2017 due to a torn thumb ligament.
No one is saying Trout is slowing just yet. His 14 home runs this season have him on a pace for 34 -- which would put him at or over the 30-homer mark for the eighth time in his career -- but his OPS sits at .827.
Trout finished under .900 only once during his previous 12 seasons, and that came in his rookie season of 2011 (.672), when he played in only 40 games. Trout's career OPS is .994.
Trout says he is aware he has to pay more attention to his physical health the older he gets.
"I don't know if there's an age (to be in your) prime," Trout said. "But I have a pretty good idea of how my body is, how my swing is, how to prepare myself, just going through everything. The more experience you get, the more you learn, but when you get a little older, you gotta start taking care of your body."
Trout played in 157 games or more for four consecutive seasons from 2013-16.
"When you're younger, you just come to the field and do your thing, go out there and play," he said. "Now, it's taking care of yourself and learning from that."
On Sunday, right-hander Griffin Canning (4-2, 4.47 ERA) will be on the mound for the Angels for the 10th time this season. He is 1-1 with a 2.91 ERA in four career starts vs. Seattle
Right-hander Logan Gilbert (4-3, 3.80) will make his 13th start of the season for the Mariners. He is 4-1 with a 3.51 ERA in six career starts against the Angels
The Mariners are happy to have Andres Munoz back in the bullpen. He has struggled with injuries, although he looked healthy on Saturday, retiring all four batters he faced and striking out three of them in the Mariners' 6-2 victory
Munoz pitched in 64 games last season, and his 96 strikeouts in 65 innings led all American League relievers. But he needed offseason surgery on his right foot, then pitched in only four games at the start of the season before being sidelined with a strained shoulder.
Munoz missed two months and returned to a major league mound on Tuesday, throwing a scoreless inning and striking out two against the San Diego Padres. His strikeout victims on Saturday were Shohei Ohtani, Trout and Anthony Rendon.
Mariners manager Scott Servais, though, will err on the side of caution with Munoz
"You won't see him back-to-back days here for a little bit," Servais said. "We've got other guys we'll go to in the bullpen if we need to and take it from there."
--Field Level Media