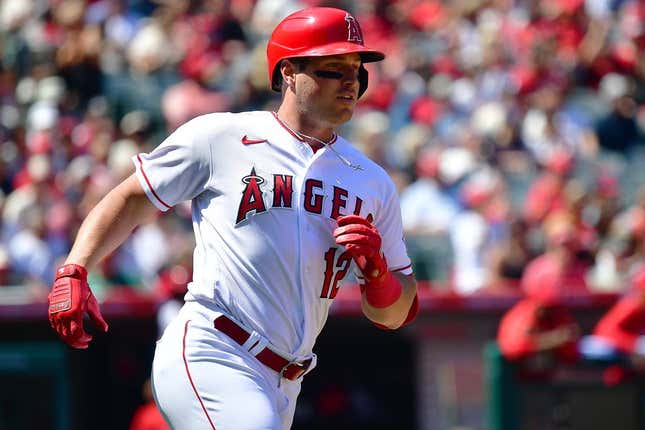 The Los Angeles Angels will begin a three-game series against the Washington Nationals on Monday night in Anaheim, Calif., having shown they are a deeper offensive team than simply Mike Trout and Shohei Ohtani
Aaron Rodgers should go full Joe Namath | Comedian Bert Kreischer
Infielder Gio Urshela and outfielder Hunter Renfroe, acquired in the offseason, have made early contributions. The Angels got Urshela from the Twins for a minor league pitcher and Renfroe from the Brewers for relievers Janson Junk, Elvis Peguero and a minor league pitcher
In Urshela, the Angels received someone who has played 525 of his 610 major league games at third base, even though the Angels already have former All-Star Anthony Rendon at third. Urshela, however, also can play shortstop, and heading into Monday night's game against the Washington Nationals, he has started four games at third and four at shortstop
Renfroe has started all nine of the Angels' games in right field, moving Taylor Ward from right to left. The Angels hope Jo Adell and Mickey Moniak will develop into major league outfielders, but both currently are at Triple-A Salt Lake
"We have a lot of young players on the roster ... that haven't necessarily established themselves at the big league level," Angels general manager Perry Minasian said
Urshela and Renfroe are both signed only through this season, but they have a major league track record, something Minasian said is vital for the team to win this season.
"These guys, they're not middle-tier players," he said. "We feel like they're really good players. We have some high-end guys, and we're trying to fill some of that middle part of our (lineup) with quality, and we feel like we've done that."
Renfroe started slowly at the plate but is starting to heat up, going 5-for-9 with two homers and seven RBIs in his past two games. Urshela has been swinging the bat well all season, hitting .364 following a three-hit performance in Sunday's 12-11 loss to the Toronto Blue Jays.
Left-hander Jose Suarez (0-1, 12.46 ERA) will make his second start of the season for the Angels. He has never faced the Nationals
Nationals DH/outfielder Stone Garrett will look to get a start for the third game in a row. Garrett has earned his way into the lineup with offensive performances like he had over the weekend against Colorado. He went 4-for-5 with a home run, double and five RBIs on Saturday, then went 2-for-5 in Sunday's 7-6 loss to the Colorado Rockies
It's been a long time coming for Garrett, who toiled in the minor leagues for eight years and even worked as a real estate agent for a spell before finally making his major league debut last year with the Arizona Diamondbacks.
Despite hitting 28 homers for Triple-A Reno and four more in 27 games for the Diamondbacks last year, he was released after the season. He said he holds no hard feelings toward the Diamondbacks, whom he said helped him figure things out at the plate.
"I wouldn't say I changed anything physically with my swing or anything," Garrett said. "It was more the mental approach at the plate. When I went over to the D-backs, they said they wanted to see me do more damage. I really never had anyone tell me before that, 'Hey, you need to see the ball up in the zone and try to hit it far.'"
Left-hander Patrick Corbin (0-2, 8.00 ERA) will start on the mound for Washington on Monday. He is 0-0 with a 3.00 ERA in one career start against the Angels
--Field Level Media