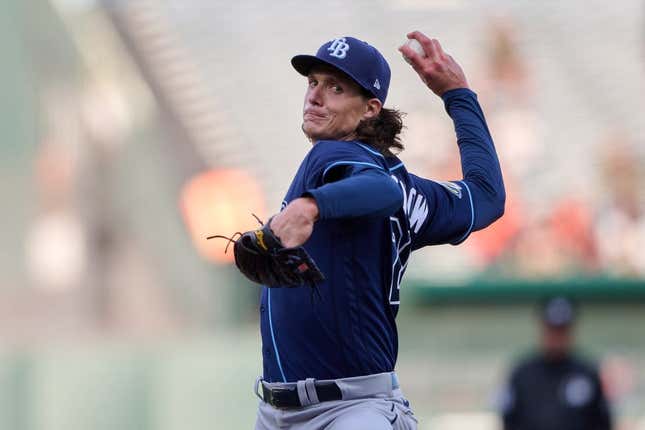 The Tampa Bay Rays and manager Kevin Cash are accustomed to games being impacted by extreme weather events.
How running an NFL team is like running a restaurant | Chef Emeril Lagasse
However, the teams' Saturday doubleheader in Anaheim, Calif., and the likelihood of a historic storm on Sunday presents uncharted territory for the Los Angeles Angels and manager Phil Nevin — as well as most residents of Southern California.
With Hurricane Hilary bearing down on the region, the Rays and Angels will complete their series by playing a split doubleheader Saturday afternoon and evening. The scheduled Sunday game was moved up a day.
The Rays will start, in order, right-handers Tyler Glasnow (6-3, 3.01 ERA) and Zach Eflin (12-7, 3.67). The Angels will counter with right-hander Chase Silseth (4-1, 3.27) followed by left-hander Patrick Sandoval (6-9, 4.09).
The Rays won an eventful opener on Friday, when they hit into a triple play in the ninth inning before scoring three times in the 10th to earn a 9-6 victory.
Luke Raley, Josh Lowe and Rene Pinto all had RBI singles in the extra frame after the Angels — who turned a triple play for just the seventh time in team history — squandered a chance to win in the bottom of the ninth. With two on and one out, Shohei Ohtani struck out before Brandon Drury grounded out.
The teams played hours after Major League Baseball announced the Saturday doubleheader. Hurricane Hilary is expected to weaken to a tropical storm by the time it makes landfall on Sunday, but Southern California hasn't been hit by a tropical storm since September 1939.
"I've lived here 52 years and never heard of something like this," Nevin said Friday afternoon. "I'll be honest — the more I read about it and hear about it, I'm a little nervous, too."
Since Cash became the Rays' manager in 2015, the team has been forced to relocate or move up four home games due to hurricanes. A three-game series against the New York Yankees was moved to Citi Field — the Mets' home stadium — from Sept. 11-13, 2017, due to Hurricane Irma. A three-game series against the Baltimore Orioles concluded with a doubleheader on Sept. 3, 2019, because of Hurricane Dorian.
"It is a unique situation," Cash said. "I know they don't see many hurricanes this way. It's been a long time, but probably best for both clubs to do this and allow us the opportunity to get out."
Glasnow earned a win on Monday night when he allowed one run over six innings as the Rays beat the host San Francisco Giants 10-2. He is 1-0 with a 0.00 ERA in three career starts against the Angels.
Eflin took a loss on Sunday after giving up a season-high six runs over three innings as the Rays fell 9-2 to the Cleveland Guardians. He won his lone start against the Angels on June 3, 2022, when he tossed eight scoreless innings in the Philadelphia Phillies' 10-0 victory.
Silseth earned the win on Sunday after tossing five scoreless innings in the Angels' 2-1 victory over the Houston Astros. He has never opposed the Rays.
Sandoval lost his Monday start after giving up five runs (four earned) over 2 2/3 innings as the Texas Rangers routed the Angels 12-0. He is 0-1 with a 2.65 ERA in four games (three starts) vs. the Rays.
—Field Level Media