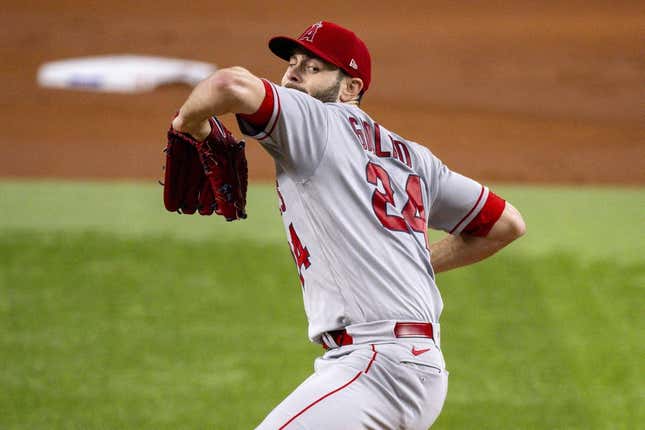 A day after an earthquake and rains from Tropical Storm Hilary forced the postponement of the opener of a three-game series, the slumping Cincinnati Reds will face the Los Angeles Angels in Anaheim, Calif., on Tuesday night.
How running an NFL team is like running a restaurant | Chef Emeril Lagasse
For the Reds, the natural elements postponed the beginning of what is a crucial three-city, 10-game western road trip through Anaheim, Phoenix and San Francisco. Cincinnati will conclude the three-game set against the Angels with a day-night doubleheader on Wednesday.
The Angels haven't played since Saturday, when they split a doubleheader at home against the Tampa Bay Rays.
The Reds continued their year of rookie call-ups over the weekend when they promoted top infield prospect Noelvi Marte to oppose the Toronto Blue Jays. Marte joins rookies Matt McLain, Christian Encarnacion-Strand and Elly De La Cruz on the Cincinnati infield, giving the Reds one of the youngest infields in the majors.
Marte and De La Cruz are 21, Encarnacion-Strand is 23 and McLain just turned 24 on Aug. 6. De La Cruz, McLain and Encarnacion-Strand all made immediate impacts. Marte made his major league debut as a pinch runner on Saturday and stole third in the bottom of the ninth as the potential tying run, but he was left stranded.
Marte was 1-for-4 with a double in his first plate appearances on Sunday during the Reds' 10-3 loss to Toronto.
"They're not only first-year players and rookies, but they're young," Cincinnati manager David Bell said of his new infielders. "They got here quick. I think it's great. I acknowledge it, but I don't spend a whole lot of time thinking about it, because they're here to perform, and we're here to win.
"And they don't have to do anything different, other than be themselves and keep working every day to get better."
The Reds believe they can still push for a playoff spot with a rookie-laden roster but will have to overcome the dog days of August. They have just five wins in 17 games this month.
The Angels have dropped out of contention in the American League West and are currently well out of range in the AL wild-card race, too.
To get out ahead of Tropical Storm Hilary, the Angels played the doubleheader against Tampa Bay on Saturday, winning the first game 7-6 before getting routed 18-4 in the nightcap, the most runs Los Angeles has surrendered in a contest this season.
"Your day ends with a sour taste," Angels manager Phil Nevin said. "It changes the whole complexion of the day."
Los Angeles left fielder Randal Grichuk made one of the catches of the year in the Saturday opener, ending the top of the second by robbing Yandy Diaz of a homer to left center. Grichuk timed his jump and brought the ball back from over the fence.
"(That) was phenomenal," Nevin said. "He's a good outfielder. He goes and gets it. He makes the right routes."
Second-year Reds right-hander Graham Ashcraft (6-8, 4.89 ERA) is scheduled to make his 24th start of the season on Tuesday. In a 3-0 loss to the Cleveland Guardians last Tuesday, Ashcraft allowed seven hits and three runs over seven innings.
In his last visit to Southern California, Ashcraft threw six shutout innings against the Los Angeles Dodgers on July 30 during Cincinnati's 9-0 win.
The Angels will counter with right-hander Lucas Giolito (7-9, 4.44), making his 26th start of the season and fifth with the Angels since coming over in a trade with the Chicago White Sox. Giolito is just 1-3 with an 8.14 ERA in four starts with Los Angeles.
He allowed seven hits and four runs over six innings in his latest start, a 7-3 loss to the host Texas Rangers last Tuesday.
Giolito struggled in his only previous outing against the Reds, when he gave up seven runs on eight hits in five innings for the White Sox on July 3, 2018. He did, however, come away with a no-decision. Ashcraft will be opposing the Angels for the first time.
—Field Level Media