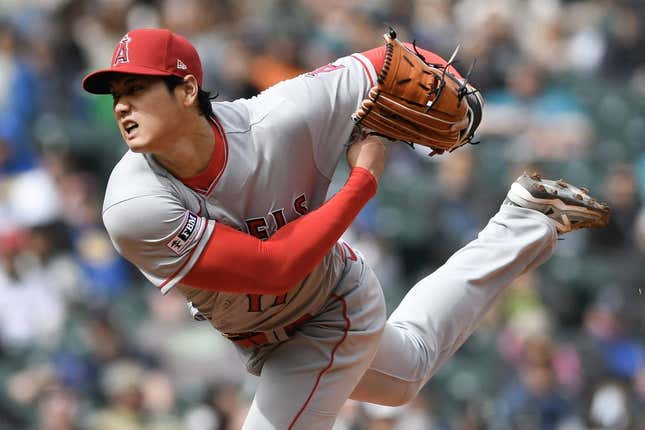 An exciting pitching matchup is on tap as the Boston Red Sox host the Los Angeles Angels in the city's traditional Patriots' Day game on Monday morning
Bass' ERA stinks, but not compared to who he is off the mound | Worst of the Week Countdown
Boston is expected to send 23-year-old Brayan Bello (2-8, 4.71 ERA in 2022) to the mound against Los Angeles two-way star Shohei Ohtani (2-0, 0.47 ERA) in the finale of the four-game series.
The Red Sox will go for the sweep after Sunday's 2-1 win in which Justin Turner's two-run home run in the third inning and seven strong frames from Garrett Whitlock were the difference
No Boston starter had worked more than five complete innings all season.
"We needed an outing like that," Red sox manager Alex Cora said
Bello will have to come off the 15-day injured list (forearm) before pitching Monday. He had been expected to crack Boston's rotation before the injury, having improved greatly by last season's end.
He made 13 appearances (11 starts) in 2022, allowing 16 earned runs over his last 10 outings after surrendering 14 in his first three.
"He is so important to the organization," Cora said of Bello this spring. "He's important for us, important for what we're trying to accomplish."
Bello was strong during his rehab outing for Triple-A Worcester last Tuesday, topping out at 97 mph while allowing just four hits and striking out four over six innings.
Bello's return to the Red Sox rotation is highly anticipated even within the clubhouse
"I keep telling (Turner), wait until you see this guy pitch," Red Sox utility man Enrique Hernandez said. "Obviously being from the Dominican, the size he is, the velocity he has, and the nasty changeup, I'm not saying he's Pedro (Martinez), but there's a lot of Pedro in him.
With Bello working his way into the rotation, Chris Sale will get an extra day of rest before pitching Tuesday's series opener against Minnesota.
Ohtani has been stellar, striking out 24 while allowing six hits and 12 walks across 19 innings this season. He blanked Washington over seven one-hit frames last Tuesday, marking his second win in as many decisions.
The walk total and a lack of 1-2-3 innings has been some cause for concern for Ohtani, who is continually improving his uber-unique toolbox.
"He's added some shapes to his pitches," Angels manager Phil Nevin said of Ohtani. "The adjustments he's making in-game and between starts, it's what the great pitchers do. He's obviously one of those guys and is always striving to be better. He threw some pitches (Tuesday) we haven't seen.
Ohtani reached base in 36 consecutive games before Sunday. It was the longest active streak in the major leagues and is tied for the third longest in Angels history
"With all due respect to all the athletes in the world, he has to be the best athlete," Cora said of Ohtani.
After starting Sunday as Boston's designated hitter, Ohtani's countryman and 2023 World Baseball Classic teammate Masataka Yoshida is slated to return to his position in left field after being sidelined briefly with hamstring tightness.
First baseman Gio Urshela is riding a seven-game hitting streak for Los Angeles, which has lost three straight for the first time this season.
"It's been tough, but we've still got a lot of baseball left," Los Angeles star outfielder Mike Trout said. "It's early. It's April 16. No panic."
--Field Level Media