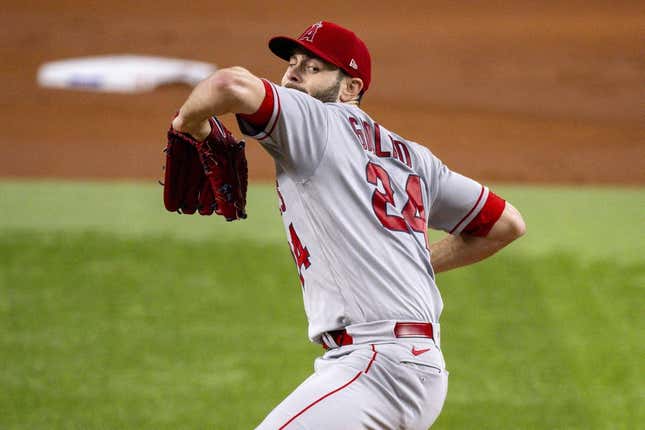 After weathering Tropical Storm Hilary, the Los Angeles Angels will open a three-game series with the Cincinnati Reds in Anaheim, Calif., on Monday night.
How running an NFL team is like running a restaurant | Chef Emeril Lagasse
In preparation for the storm that hit Southern California on Sunday, Major League Baseball revised the Angels' weekend series against the Tampa Bay Rays, with the teams playing a doubleheader on Saturday and taking Sunday off.
The Angels split the twin bill, winning the first game 7-6 but getting pummeled 18-4 in the nightcap.
"Your day ends with a sour note," Angels manager Phil Nevin said following the doubleheader. "It changes the whole complexion of the day."
Cincinnati, meanwhile, dropped two games to the Toronto Blue Jays after winning the series opener 1-0 on Friday. The Reds took a disheartening 10-3 loss on Sunday when Hunter Greene returned from a hip injury and gave up nine runs (eight earned) — including five home runs — in three innings.
As the Reds remain in contention for the National League Central title and are in the thick of the wild-card race, they're also developing some of their top young talent at the big league level.
On the bright side, Reds infielder Noelvi Marte, one of the top prospects in baseball, made his first major league start on Sunday. In the ninth inning, he doubled for his first big league hit.
"I felt really good," Marte said through an interpreter. "Now I can finally say that the dream has come true."
Marte is expected to play regularly at third base.
"He's worked really hard," Reds manager David Bell said. "He's advanced quickly. Obviously, with all of our young players, there's going to be growing pains. There's going to be mistakes. But I really feel like he's prepared. We all do."
In the series opener, the Angels will start right-hander Lucas Giolito (7-9, 4.44 ERA), who was acquired from the Chicago White Sox before the trade deadline.
Giolito has labored in his first four starts with the Angels, going 1-3 with an 8.14 ERA. The 29-year-old has yielded 19 earned runs in 21 innings.
In his last start, against the host Texas Rangers on Tuesday, he took the loss, giving up four runs in six innings with five strikeouts.
"My sequencing could have been better," Giolito said afterward. "I just need to execute better."
The eight-year veteran has faced the Reds just once in his career, while with the White Sox, and the outing didn't go well. On July 3, 2018, he escaped with a no-decision despite allowing seven runs on eight hits and three walks in five innings. Chicago won that game 12-8.
The Reds on Monday will start right-hander Graham Ashcraft (6-8, 4.89), who will make his 24th start of the season and his first ever against the Angels.
The 25-year-old has been able to pitch deep into games, especially in August. In three starts this month, he has logged 22 innings, including eight on Aug. 4 in a no-decision against the visiting Washington Nationals. Ashcraft went seven innings apiece in the other two.
Ashcraft has no wins to show for it, however, going 0-1 despite a 2.86 ERA.
In Ashcraft's last outing, on Tuesday against the visiting Cleveland Guardians, he gave up three runs on seven hits and came out on the losing end of a 3-0 game.
"I felt really good mechanically," Ashcraft said. "I felt like it's a right step where we've been going with the things we've been working on."
—Field Level Media