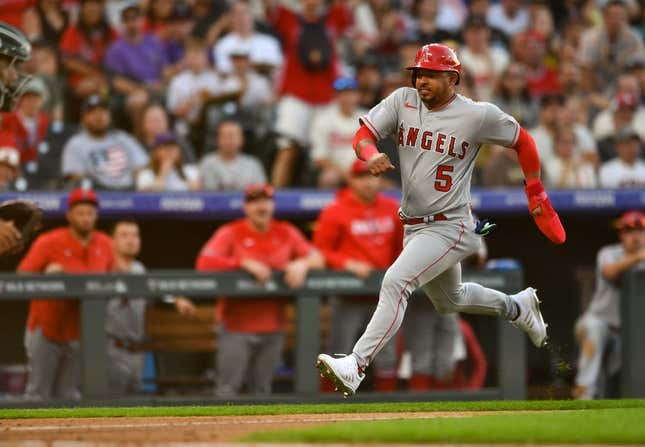 When the Los Angeles Angels open a four-game series against the Chicago White Sox on Monday night in Anaheim, Calif., they will look different than the last time they were in their home ballpark mere days ago
Is Texas or Florida State a bigger national title contender? | Agree to Disagree
Injuries have hit the Angels' infield hard, as Gio Urshela (pelvic fracture) is out for the season, shortstop Zach Neto is out indefinitely (strained oblique), and third baseman Anthony Rendon (wrist contusion) likely is out for another week or so
Add first baseman Jared Walsh, who, after missing much of the season as he dealt with neurological issues, has struggled so badly (.119 batting average, one homer, five RBIs in 28 games) that he was sent to Triple-A Salt Lake over the weekend.
Angels general manager Perry Minasian has been busy, acquiring third baseman Eduardo Escobar from the Mets on Friday, first baseman/third baseman Mike Moustakas from the Rockies on Saturday, and calling up infielder David Fletcher from Salt Lake in time for Saturday's game
"We feel happy with the move made (Saturday) and the move to get Fletch here, too," Angels manager Phil Nevin said. "I've heard nothing but great things about (Escobar)
Both Fletcher and Escobar had an immediate impact offensively in games Saturday and Sunday against the Colorado Rockies. Fletcher was 4-for-8 with a homer and five RBIs, and Escobar was 4-for-8 with a triple and five runs.
Moustakas, a left-handed hitter and 13-year veteran, was in uniform with the Angels in their 4-3 loss Sunday against the Rockies but did not play. He likely will start at first base against right-handed pitchers
Left-hander Reid Detmers (1-5, 4.02 ERA) will start Monday for the Angels
He is coming off his best start of the season, even though he wound up with a no-decision. Detmers allowed two hits over seven shutout innings against the Dodgers in his team's 2-0 loss on Tuesday. He has never faced the White Sox
Right-hander Dylan Cease (3-3, 4.22) will make his 17th start of the season for the White Sox. He has pitched well in June but has no wins to show for it. Cease has allowed two runs or less in all four starts this month, compiling a 2.38 ERA. He hasn't lost a decision since May 18
Cease is 1-1 with a 4.05 ERA in four career starts against the Angels
The White Sox won their last two games of a three-game series over the Boston Red Sox, buoyed by a power surge that produced six home runs. Three were hit by Luis Robert Jr
According to White Sox manager Pedro Grifol, driving the ball in the air is a priority. So much so, he said, that during batting practice, the White Sox have put screens up on both sides of the batting practice pitcher in an effort to get hitters to focus on lifting the baseball
"In this league, ground balls pretty much are outs, and that's what we're trying to avoid," Grifol said. "I've said it over and over again -- we have capabilities of slugging on this club. So we'll do whatever it takes, whether it's the screens or whatever we can come up with, to elevate the baseball, which is what we've got to do."
--Field Level Media