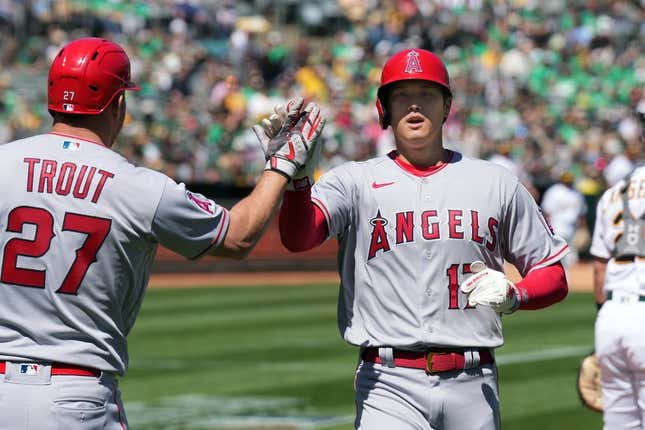 Taylor Ward capped an 11-run third inning with a two-run homer, left-hander Patrick Sandoval worked five strong innings and the visiting Los Angeles Angels avenged an Opening Day loss to the Oakland Athletics with a 13-1 trouncing Saturday afternoon
Held to five hits by five pitchers in a 2-1 opening defeat, the Angels roughed up Oakland starter Shintaro Fujinami and reliever Adam Oller for seven hits in the third inning alone in the rematch, spoiling the Major League Baseball debut of the former Japanese star
Fujinami (0-1) had a dream first inning -- striking out the first two batters, including Mike Trout, on four pitches apiece before getting longtime friend Shohei Ohtani to ground out -- and also had a 1-2-3 second before the disastrous third.
Logan O'Hoppe had an RBI double and a sacrifice fly, Ward an RBI single before his two-run shot, Jake Lamb and Gio Urshela a two-run single apiece, and Ohtani a run-scoring hit in the explosion.
Fujinami was pulled one out into the inning, eventually charged with eight of the 11 runs. He allowed five hits and three walks, while striking out four.
Ward, batting leadoff, put the finishing touches on a 3-for-5 day with another RBI single in the seventh, one inning after Ohtani added a second RBI on a single that followed a Trout double. Ward totaled four RBIs, one off his career best.
Sandoval (1-0) eased through his five innings, limiting the A's to two hits and one run, that coming on a Ramon Laureano leadoff homer in the fifth.
Oakland's only other hit off Sandoval was a leadoff single by Aledmys Diaz in the fourth after the A's had been hitless through three innings.
Sandoval walked two and struck out two.
Urshela joined Ward with a three-hit game for the Angels, while Luis Rengifo scored three times. Ward, Trout and Urshela all scored twice
Tucker Davidson completed a five-hitter for the Angels by working a scoreless final four innings, allowing three hits with three strikeouts. He was credited with his first major league save
--Field Level Media