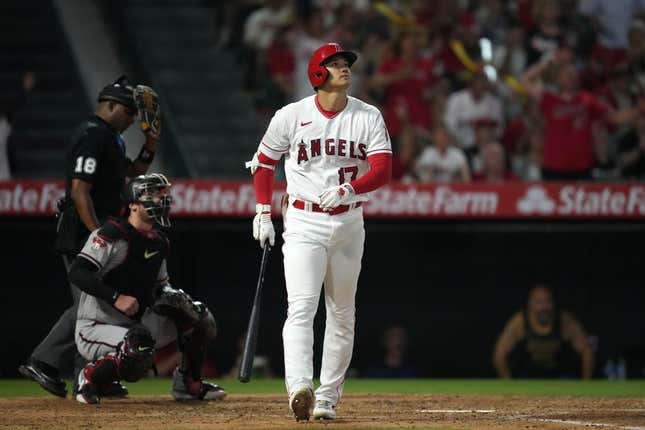 Shohei Ohtani will look to carry his success into a new month after enjoying a monster June.
Is Texas or Florida State a bigger national title contender? | Agree to Disagree
Ohtani's first chance to keep the homers coming in July is Saturday night when the Los Angeles Angels host the Arizona Diamondbacks in the middle contest of a three-game series
Ohtani smacked a mammoth 493-foot homer in Friday's 6-2 loss to the Diamondbacks. It stretched his major league lead to 30 and was his 15th homer of the month, tying the American League record for June shared by Babe Ruth (1930) and Roger Maris (1961) of the New York Yankees and Bob Johnson (1934) of the Philadelphia Athletics
The 15 homers in June is also an Angels' record for any month
Ohtani also became the ninth different player to hit 30 homers before July. The last to do so was Chris Davis of the Baltimore Orioles. Davis had 31 at the end of June in 2013.
"It's fun to be a part of," Angels manager Phil Nevin said of Ohtani's exploits. "It's fun to watch. You can see there's an extra little bit to him right now. He wants to win and we're in good place right now. I know we've had a rough three days, but still everything is right in front of us. And I think he realizes that and it's bleeding into the room. You can tell how happy he is to be here and how things are going. It's becoming infectious within the room.
Outside of Ohtani's homer, Los Angeles had just three hits Friday while losing its third straight game. The Angels haven't lost four in a row all season
Arizona was without All-Star outfielder Corbin Carroll (shoulder) one day after he was injured. Carroll could possibly return Saturday.
Lourdes Gurriel Jr. stepped into the starring role with a grand slam as the Diamondbacks scored the first five runs while stopping a two-game slide
Friday's contest also marked the first time the Fletcher brothers played against each other in a major league game. David (age 29, Angels) and Dominic (age 25, Diamondbacks) grew up in nearby Orange and were huge Angels' fans
Dominic Fletcher was recalled Friday with Carroll ailing. Both Fletchers noted that their father, Tim, would've loved to have been at the ballpark. Tim Fletcher died suddenly in June at age 60.
"This would have been one of his proudest moments," Dominic Fletcher told reporters before Friday's game. "Every night he turned on the TV and had both of our games going on simultaneously. To be able to be here and watch would have been one of his favorite things."
Dominic Fletcher was 1-for-4 on Friday and David was hitless in two at-bats.
Left-hander Tyler Anderson (4-2, 5.54 ERA) will take the mound for the Angels on Saturday
Anderson, 33, struck out a season-best nine in six innings while losing to the Colorado Rockies on Sunday. He gave up three runs and four hits.
Anderson is 6-4 with a 4.50 ERA in 18 career appearances (16 starts) against Arizona. Ketel Marte (12-for-27, two homers), Nick Ahmed (10-for-26, two homers) and Christian Walker (7-for-16, one homer) have all fared well against Anderson.
Right-hander Ryne Nelson (4-4, 4.97 ERA) will start for the Diamondbacks
Nelson, 25, is coming off a strong effort in which he allowed one run and three hits over seven innings to beat the San Francisco Giants on Sunday. He struck out six and walked two.
Nelson has yet to face the Angels in his career. Recently acquired Mike Moustakas is 2-for-4 against Nelson
Brandon Drury (shoulder) of Los Angeles was unavailable Friday.
--Field Level Media