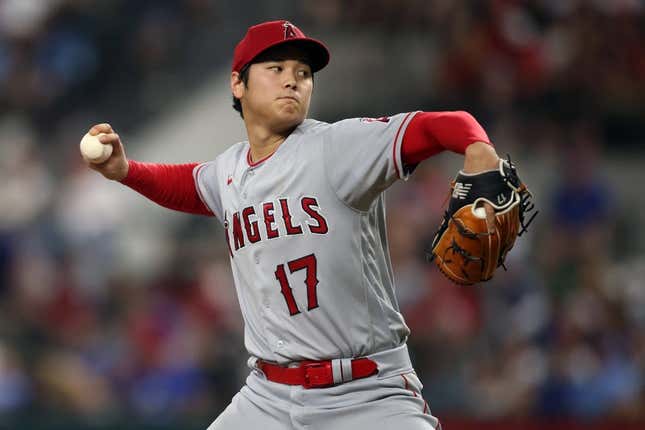 Shohei Ohtani will be on the mound for the Angels when they face the Dodgers in a Los Angeles showdown Wednesday night in Anaheim, Calif
Is Texas or Florida State a bigger national title contender? | Agree to Disagree
Offensively, Ohtani has been as hot as anybody in the majors the past couple of weeks even though his 15-game hitting streak ended Tuesday when he went 0-for-4 with two strikeouts in a 2-0 loss to the Dodgers
On the mound, Ohtani (6-2, 3.29 ERA) hasn't been as solid recently as he was early in the season. He did pitch well his last time out, though, giving up two runs over six innings in a 5-3 victory Thursday over the Texas Rangers.
Ohtani was much better in the first seven starts of the season (4-0, 2.54 ERA, 59 strikeouts in 39 innings) than the last seven (2-2, 3.98 ERA, 46 strikeouts in 43 innings). He has yet to pitch against the Dodgers
Ohtani will be backed by an offense that includes not only himself and Mike Trout, but one that overall is second in the American League in home runs (108) and fourth in OPS (.765).
The Angels have received production from infielder Brandon Drury, who ranks tied for third on the team in home runs (12) and third in OPS (.814). He is behind Ohtani and Trout in both categories
The Angels signed Drury to a two-year, $17 million contract, even though he probably could have pocketed more after winning a Silver Slugger award last season playing for the Cincinnati Reds and San Diego Padres
Drury, though, grew up an Angels fan even though he was raised in southern Oregon. He also had a good relationship with Angels manager Phil Nevin, playing for him when the latter managed the Diamondbacks' Triple-A team. Drury also played with Nevin for the New York Yankees when the latter was their third-base coach
"Phil Nevin is one of my favorite coaches I've played for in baseball," Drury said. "I had him in the minor leagues and with the Yankees in the big leagues. Me and Nev have a great relationship."
The Dodgers have yet to announce their starter for Wednesday's game but are expected to call up Michael Grove from Triple-A Oklahoma City to make the start
Grove is 0-2 with an 8.10 ERA in seven games (six starts) this season for the Dodgers. He has yet to face the Angels in his career
Of concern for the Dodgers these days is their bullpen, which owns the highest ERA in the National League at 5.01, and better only than Oakland's (5.51) in the majors
"It's very frustrating, and they have to do better," Dodgers manager Dave Roberts said of his relievers. "It's not workload. It's not the wrong lanes or the right lanes, it's they need to be better, period
"They're getting opportunities, and as you run them out there, you learn more. ... We have to use the guys we have. That's how we go forward. And they have to be better."
They were better in Tuesday's win over the Angels, with Caleb Ferguson and Evan Phillips combining to retire all six batters they faced -- four via strikeout -- to close the win
--Field Level Media