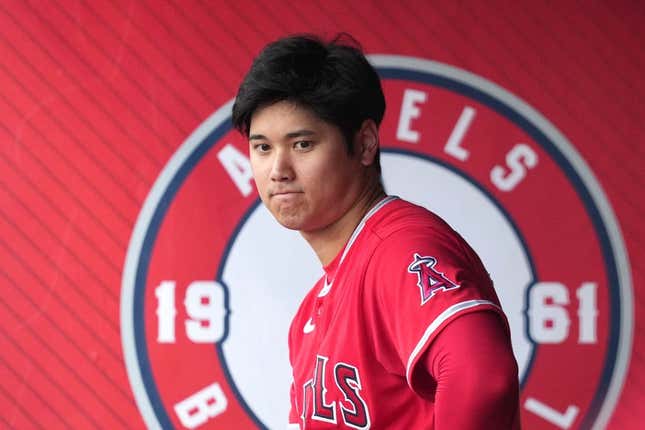 Shohei Ohtani will make his start on the mound as scheduled on Wednesday as the Los Angeles Angels play the rubber match of their three-game series against the visiting San Francisco Giants in Anaheim, Calif
How running an NFL team is like running a restaurant | Chef Emeril Lagasse
The two-way player was deemed fit to pitch after having to leave the game early his last time out
Ohtani exited after four innings in his start last Thursday against the Seattle Mariners because of cramping in his right (pitching) hand, specifically in his right middle finger
Ohtani remained in the game as the designated hitter, and has played in every game since in that role. Ohtani's stamina has been commended, considering he has pitched 124 2/3 innings and has played in 113 of the Angels' 115 games overall, compiling 505 plate appearances
How well he holds up physically will be watched closely by the club as the season progresses, and Ohtani admits he's been feeling it
"It's not just my finger," Ohtani said through his translator. "I've been kind of getting cramps all over the place.
Ohtani (9-5, 3.32 ERA) is just one start removed from his first major league shutout, a one-hitter against the Detroit Tigers on July 27. But in his three games prior to that, he allowed 15 runs (14 earned) in 16 1/3 innings
Ohtani has faced the Giants once in his career as a pitcher, getting a no-decision despite allowing only one run in six innings during the 2021 season
Angels center fielder Mike Trout, however, will not be in the lineup again for the 29th consecutive game after suffering a fractured hamate bone in his left hand
With Tuesday's 7-5 win over the Giants, the Angels are 12-16 since Trout's injury. He's been hitting off a tee but is yet to take live batting practice
"There's some pain when he swings, but he feels like it's something that he's gonna have to live with for now to get back on the field," Angels manager Phil Nevin said. "And it'll eventually get better ... but we're getting close.
The Giants have had struggles recently with their offense, but their defense also has been an issue all season. They made two errors in Tuesday's game and lead the National League with 74 errors overall
"We're not always going to be able to overcome defensive miscues," Giants manager Gabe Kapler said. "We really want to limit those. I think we've played overall pretty good defense over the course of the season. The last couple of games have been less so. We want to limit days when we have rough games on defense because ultimately, as we saw in '22, they have a bit of a cascading effect and force more pitchers into the game.
Right-hander Ryan Walker (4-1, 2.52 ERA) is slated to start on Wednesday for the Giants
Walker pitched two-thirds scoreless innings of relief against the Oakland Athletics on Sunday. He has yet to face the Angels in his career
--Field Level Medi