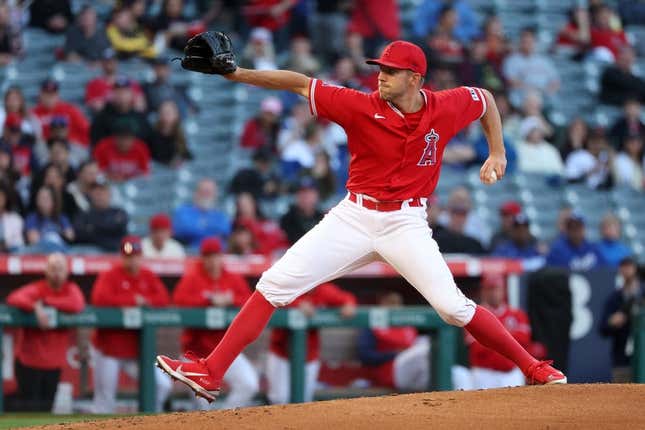 Los Angeles Angels left-hander Tyler Anderson will look to keep it simple headed into Saturday night's start against the Toronto Blue Jays in Anaheim, Calif
Bass' ERA stinks, but not compared to who he is off the mound | Worst of the Week Countdown
After going 15-5 with a 2.57 ERA and being named to the All-Star team for the first time in his career last year with the Los Angeles Dodgers, Anderson's approach is not to change much, if anything at all.
Anderson, 33, credits much of his success last season to an improved changeup, but he acknowledges the pitch is only effective if he can spot his fastball.
"A good fastball in a good location sets it up even better," said Anderson (1-0, 0.00 ERA), who scattered four hits over six scoreless innings in a 6-0 win over the Oakland Athletics last Sunday. "I think it's going to be similar (to last season). Overall, it helped me in a lot of counts."
Anderson added that he believes altering his arm slot has been a benefit as well.
"It really started as a way to get lefties and get in on their hands a little bit and crowd them," Anderson said. "From there, it kind of evolved against lefties and righties. I did it as a kid. and it's the same thing. But it's something I try to sprinkle in and not really live off."
Anderson is 0-1 with a 3.00 ERA in one career start against the Blue Jays
He'll face a Toronto lineup that is looking to diversify its attack, adding speed to what otherwise is a lineup known for power. The Blue Jays hit 200 home runs last season, third best in the American League, but the addition of center fielder Kevin Kiermaier gives the club a threat on the bases
Kiermaier signed a one-year, $9 million deal with Toronto after nine seasons in Tampa Bay.
An example of what Kiermaier can do took place on Thursday, when he grounded a ball up the middle into center field against Kansas City and legged out a double.
"That rubs off on guys," Blue Jays second baseman Cavan Biggio said. "We've got a lot of speed in our lineup besides him, and when you see him make a baserunning play like that, it pays off with a two-out hit. You just see the benefits of it. I like to pick his brain and learn from him not only in the outfield, but also baserunning
"It's a lineup where we're aggressive with the bats, but we want to be more aggressive on the basepaths, too."
Toronto is looking to build off the momentum of its 4-3 victory over the Angels on Friday in the opener of a three-game series
Right-hander Jose Berrios (0-1, 12.71 ERA) will start for the Blue Jays after a poor performance in his first start of the season. He was tagged for eight runs and nine hits in 5 2/3 innings of a 9-5 loss to the Kansas City Royals on Monday
Berrios is 2-4 with a 6.81 ERA in seven career starts against the Angels
Angels third baseman Anthony Rendon is expected back in the lineup Saturday after serving a four-game suspension following an altercation with a fan after a game in Oakland last week
--Field Level Media