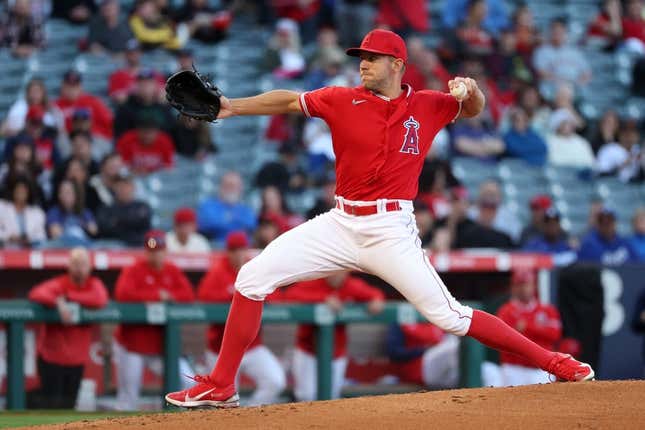 The Los Angeles Angels would like a third consecutive strong pitching performance -- and a second straight win -- when they complete their season-opening series against the host Oakland Athletics on Sunday
Air Jordans are more American than McDonald's French fries | Deon Cole's Ultimate Sports Fantasy
Following Shohei Ohtani and Patrick Sandoval on the mound for the Angels will be left-hander Tyler Anderson, who hopes to help the team clinch a series win after Los Angeles rebounded from a 2-1 defeat on Opening Day with a 13-1 shellacking of Oakland on Saturday
Anderson went 15-5 with a career-best 2.57 ERA last season. Oakland is expected to counter with lefty Ken Waldichuk (2-2, 4.93 ERA in 2022).
Ohtani worked six shutout innings in the opener and Sandoval gave up one run over fine innings in the rematch before each handed the ball to the Los Angeles bullpen. The difference was that Ohtani led just 1-0, a deficit the A's erased in a two-run eighth, whereas Sandoval was up 12-1 when he departed.
Anderson will make his first start for the Angels, continuing a tour of baseball's Western divisions. He starred for the Los Angeles Dodgers last season, following stints earlier in his career with the Colorado Rockies, San Francisco Giants and Seattle Mariners, as well as the Pittsburgh Pirates
The Angels signed Anderson to a three-year, $39 million deal in free agency over the winter
The 33-year-old did not face the A's last season. He's dueled Oakland three times in his career, allowing a total of 10 hits and two earned runs in 16 2/3 innings, going 2-0 with a 1.08 ERA.
The Scottsdale, Ariz., resident pitched well in the spring, going 2-0 with a 1.35 ERA. He said during spring training that pitching near home was a driving factor in signing with the Angels
"I have three kids," he noted. "For me, it's a no-brainer to try to go with a team (that trains) in Arizona to get those extra two months at home in the offseason.
"My family means everything to me. It's so easy for them to come in if they want to drive (to Anaheim)."
The A's have kept Ohtani and Mike Trout in the ballpark so far in the series, limiting them to three singles and a double in 15 at-bats. But they haven't had such luck with Taylor Ward, who had a single and a stolen base in the opener before drilling a two-run homer and two RBI singles in Saturday's rout.
Oakland manager Mark Kotsay came away even more impressed with his club's Opening Day pitching performance, and starter Shintaro Fujinami's first two hitless innings Saturday, after watching the Angels bust loose
"That's a good lineup over there," he said. "When you make mistakes, they are going to make you pay."
Seeking to avoid such mistakes after a poor spring, Waldichuk will try to ride the momentum of an October start against the Angels last season in which he threw seven shutout innings, allowing three hits
That performance included outdueling Ohtani and striking out Trout and Ohtani consecutively in the sixth inning.
It was the 25-year-old's only outing against the Angels
--Field Level Media