Late into a giant slalom run that looked like it would clinch her second gold in the 2015 World Ski Championships, Anna Fenninger suddenly snowplowed.
That's right. Her skis went into the position that, if you grew up skiing, you might remember from your toddler days: tips together, ends far apart. The "pizza." The "V" that's the exact opposite of carving, a position so great for shedding speed, it's how every youngster learns before they can progress to super-scary parallel skis (or, to use the technical term, "french fries.")
In other words, a snowplow has no place on a World Championship G.S. course. But for the 25-year-old Austrian, it was so much better than the alternative—a crash—and it saved her run. It was also a great illustration of how Fenninger has turned her relatively small stature into one of her greatest strengths.
Fenninger clocks in at 5'5" and around 130 pounds. This is not extraordinarily tiny. It does not make her the smallest ski racer around. It doesn't even make her the smallest ski racer to have medaled at these World Championships—in last week's downhill, Fenninger shared the podium with Swiss firecracker Lara Gut, who barely hits 5'3".
It does, however, make her at least 30 pounds lighter and a couple of inches shorter than some of her main rivals, like Tina Maze (5'7"), Lindsey Vonn (5'10") and Nicole Hosp (5'9"). And when it comes to downhill skiing, mass means momentum. And the larger you are, the more mass you have to push around longer—and therefore faster—skis. But Fenninger does have a few things going for her, advantages that let her avert disaster where her larger competitors might wipe out.
G/O Media may get a commission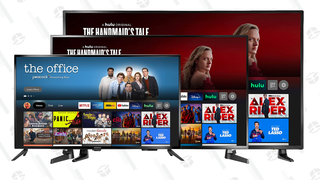 Up to 44% off
Prime Early Access - Insignia Fire TVs
Take yesterday's mistake. Aside from one late turn near the top, Fenninger's first of two runs was nearly flawless. She had .81 seconds on the next-fastest woman—in ski racing, a lead as good as a mile. But late in her second run, after a split that showed that she was easily the fastest on the course in this race too, she caught an edge. She went off-balance. Her left ski didn't turn with her right one. Her legs went spread-eagle wide. And that, as she skidded from one gate to the next, is when her ski tips nearly crossed.
It looked, for a split second, like it was all over. After all, only a ridiculous amount of strength could pry her tips apart. Women had crashed or slid out of the same course for far less. And so, when Fenninger quickly righted her skis beneath her, everyone gasped. And when she came through the finish line, her time showing that, somehow, she was still in the lead, the crowd went nuts.
(Her near-disaster and recovery occur at the 58-second mark of the video.)
Imagine going 50 mph down a hill in your car and suddenly tapping the brakes, hard. Even on an incline, it's tough to immediately get back up to your former speed. Somehow, that's exactly what Fenninger did...even though, as a smaller racer, she had less momentum to lose. But here's what makes her such a top athlete: thanks to her strength and immaculate technique and athleticism, it didn't much matter.
Fenninger's shorter skis might actually have helped it here, their more manageable size and weight making it easier to get them back underneath her. And if she was shaken by her mistake, she didn't look it. She charged right back into the next turn as if nothing had happened, looking just as fired up, and as fluid, as ever. And, of course, she won.
That's Fenninger at her best. She packs a punch. As you can see in her super-G from last week, she's aggressive and fearless, but rarely sloppy. On her edges, she looks smooth and solid, but switches quickly from one to the other. Her line tends to be precise, keeping her high on each turn, letting her set up quickly for the next.
She exploits her relatively smaller size when she can. On sections that are all about "gliding"—not carving forceful, explosive turns, but rather letting the skis run, usually over straighter and flatter terrain, which even a tough downhill will have some of—heavier racers have the natural advantage. But a person with a smaller frame has one of her own: less air resistance, that pesky friction that every racer tries to minimize with tricks like their Spandex G.S. suits. And so, on any section that offers the ability to glide for even a moment, Fenninger is quick to fold up into a tuck as small as she can, even when other racers can't or won't tuck in the same turns—as you can see in her final giant slalom race last season, one that ensured she took the overall 2014 title for G.S.
There are a couple of other advantages to a smaller stature. For one, the more mass you have, the more you're battling the ridiculous G-forces of coming around the turns, and the stronger you have to be to carry it all. Second, while shorter skis might not be faster, they can be whipped more easily around turns (the reason that slalom skis, for example, are significantly shorter than the edges-for-miles lengths of downhill skis).
Fenninger makes full use of both of these assets. In turny courses, she's practically acrobatic in her ability to fling her skis from one side to the other, as you can see in her winning G.S. race at Solden in October (a victory she shared with Mikaela Shiffrin). Rarely, despite those quick edge-to-edge switches at top speeds, does she lose her composure or look unbalanced. Which comes to another benefit of being small: your center of gravity is lower to the ground, theoretically, at least, keeping you more stable—something that can be especially helpful in the high-risk world of alpine racing, where even the slightest wobble can cost crucial fractions of a second.
For the most part, though, these benefits show up in a turnier technical event, like slalom or G.S. The faster and straighter a course—the more like a downhill or super-G—the more it should, theoretically, favor someone with more mass. Yet Fenninger hasn't only medaled in the G.S. Here at Beaver Creek, she's also won a gold in the super-G and a silver in downhill. And those results were far from outliers; ahead of this event, she'd already medaled at two out of six downhill World Cup races, and four out of five super-G races (plus two out of four G.S. events). She's usually at her best, though, on courses that are at least a little turny: both this year's downhill and super-G course sets at the World Championships were notably technical. And Fenninger rocked them both. You don't need to be a certain height to reach the podium.
---
Freelance journalist Amanda Ruggeri, a former ski racer, writes for publications including the BBC, The Globe and Mail, and The New York Times. After nearly five years of living (and skiing) in Italy, she now lives in Brooklyn, where she has learned that when it snows, her new neighbors do not share her enthusiasm.