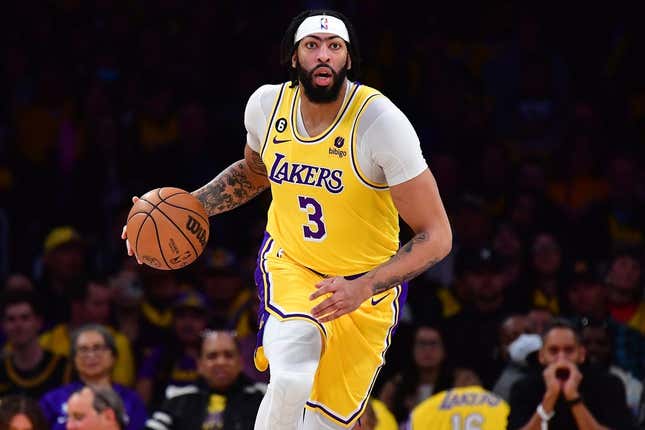 Bloodied yet not deterred, Anthony Davis will continue to lead the Los Angeles Lakers' playoff push during a home matchup against the Toronto Raptors on Friday.
How running an NFL team is like running a restaurant | Chef Emeril Lagasse
Davis has averaged 33.0 points with 13.8 rebounds and 2.8 blocks over his last five games as the Lakers continue to move up the Western Conference standings in an effort to lock down a spot in the play-in tournament.
The Lakers moved into ninth place Tuesday with a 112-103 home victory over the Memphis Grizzlies when Davis scored 30 points with a season-best 22 rebounds. The productive night came as he took a blow from Memphis' David Roddy that left him bleeding from inside and outside of his nose, costing time to receive medical attention.
The schedule will dictate that Davis plays through the discomfort. Los Angeles has just 16 games remaining and they have been playing without star LeBron James, who could miss another three weeks with a tendon injury in his right foot.
"We have every right to be happy right now," Davis said, according to the Orange County Register. "We're getting some big wins, especially with LeBron out, who is a huge part of our team. Guys are stepping up, playing well. And it's fun to see guys play well."
Davis, who has played 16 of the past 18 games since returning from a stress injury to his foot, is averaging 26.5 points and 12.5 rebounds on the season.
"Just in spite of everything we've gone through this season, he's been, like I've said before, he's been a solid rock," Lakers head coach Darvin Ham said of Davis. "He proved it again tonight."
Dennis Schroder, Rui Hachimura and Austin Reaves each scored 17 points for the Lakers on Tuesday. Los Angeles also was without D'Angelo Russell and Mo Bamba, who both have ankle injuries.
The Raptors opened their extended stay at Los Angeles with a 108-100 loss to the Clippers on Wednesday. Toronto shot 38.5 percent from the field against a team that had given up an average of 131.7 points over its previous six games.
Pascal Siakam and Scottie Barnes each scored 20 points for the Raptors, who were outscored 59-51 in the second half. Toronto lost despite forcing the Clippers into 17 turnovers and taking 96 field-goal attempts to 71 for Los Angeles. The Raptors took only 14 free-throw attempts, while the Clippers had 31.
"I thought we competed, we didn't go away and we created some good shots," Raptors coach Nick Nurse said. "I think that was a couple of notches above average for a defensive performance. But you're going to have to make more shots to win a game on the road against a team like that."
Toronto is just 1-3 on a five-game road trip that ends Friday.
Like the Lakers, the Raptors are clinging to the ninth spot in their own conference and were just 1 1/2 games from dropping completely out of the playoff picture entering NBA play Thursday.
The Raptors won the first meeting this season 126-113 on Dec. 7 in Toronto behind 25 points and 10 rebounds by Siakam. The Lakers played that one without both James and Davis.
--Field Level Media