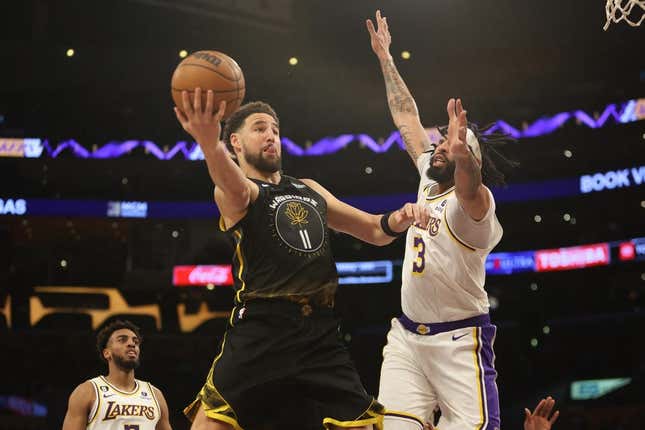 Anthony Davis led all scorers with 39 points, Dennis Schroder and Troy Brown buried key 3-pointers late and the Los Angeles Lakers spoiled Stephen Curry's return with a 113-105 victory over the visiting Golden State Warriors on Sunday afternoon.
How running an NFL team is like running a restaurant | Chef Emeril Lagasse
Having missed 11 straight games with a partially torn ligament in his left knee, Curry paced the Warriors with 27 points in 32 minutes. But he missed a wide-open 3-point attempt with Golden State down four with 1:14 to play.
After the Warriors erased all of a 20-point first-quarter deficit, the Lakers found themselves in a 91-all tie following Anthony Lamb's 3-pointer with 5:37 to go.
But Davis' supporting cast, lacking injured LeBron James and D'Angelo Russell, came through down the stretch, with the 3-pointers by Schroder and Brown contributing to a 10-2 burst that opened a 101-93 lead with just 3:38 to go.
Curry and Klay Thompson responded with 3-pointers in a late Golden State surge, but this time Davis took matters into his own hands, hitting two free throws after the Warriors had closed within two and making a five-foot floater following Curry's late missed three.
In addition to eight rebounds, six assists and two blocks, Davis finished 10-for-13 at the line, nearly getting as many attempts as Golden State did as a team. The Warriors finished 15-for-18.
Austin Reaves chipped in with 16 points and Brown 14 for Los Angeles, which improved to 2-2 since James suffered a tendon injury in his right foot. Malik Beasley contributed 12 points to the win, Schroder 11 and Jarred Vanderbilt 10.
Vanderbilt completed a double-double with a game-high 13 rebounds. Reaves had a game-high eight assists.
Curry shot 8-for-20 overall and 5-for-13 on 3-pointers. Golden State outscored the hosts 54-33 from beyond the arc in the loss.
Thompson backed Curry with 22 points for the Warriors, who saw a five-game winning streak -- all at home -- come to an end.
Draymond Green compiled 15 points and a team-high nine rebounds, while Donte DiVincenzo had 11 points and Jordan Poole 10. DiVincenzo also tied Curry with a team-high six assists.
--Field Level Media