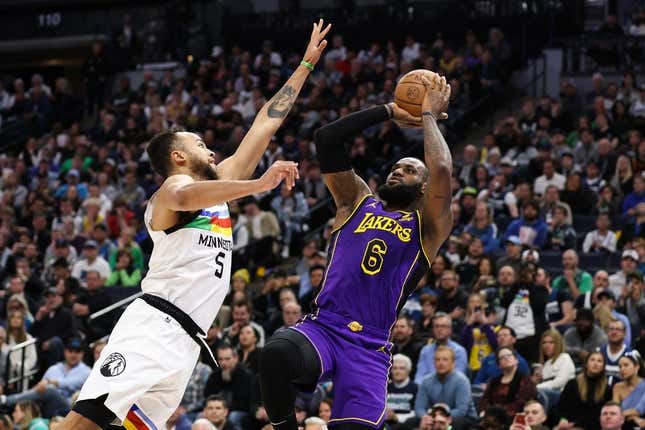 Anthony Davis had 38 points and 17 rebounds and the Los Angeles Lakers rallied from a double-digit third-quarter deficit to defeat the Minnesota Timberwolves 123-111 on Friday night in Minneapoli
LeBron James had 18 points and 10 rebounds, and D'Angelo Russell finished with 12 points and 10 assists as all five starters scored in double figures for the Lakers (39-38), who climbed over .500 for the first time since Jan. 9, 2022
Mike Conley scored 25 points, Karl-Anthony Towns had 23 points and Rudy Gobert finished with 14 points and 11 rebounds for the Timberwolves (39-39), who have dropped two in a row following a four-game winning streak
The Timberwolves led by 10 points at the half after shooting 54.2 percent from the floor, including 6-for-13 from 3-point range
Towns converted a three-point play on Minnesota's first possession of the second half to push the lead to 13.
The Lakers appeared in trouble when Davis rolled his ankle just before the midway point of the third quarter
He was still laying on the floor when the Lakers cut the deficit to 76-70, and Los Angeles continued to make its push when Davis returned, eventually moving ahead 79-78 on Dennis Schroder's steal and layup with 4:19 left in the third quarter
Los Angeles didn't stop there, as Schroder scored on a drive to complete the 24-2 run and give the Lakers an 88-78 lead with 1:17 left in the third
James recorded the first points of the fourth quarter on a three-point play to stretch the lead to 93-83 and the Timberwolves never got closer than eight the rest of the way
Minnesota shot 31.9 percent from the floor in the second half.
Conley sank a 3-pointer for a quick 7-1 lead and he made another to stretch the advantage to 17-10 with 6:39 left in the opening quarter.
After the Lakers called a timeout, Malik Beasley replaced James and made three straight 3-pointers to tie the score at 25-25 with 2:21 left
The Lakers scored the first eight points of the second quarter to take their first lead at 35-29, but Towns scored all eight points in an 8-0 run to put Minnesota back in front 37-35
Minnesota leading scorer Anthony Edwards (24.5 ppg) missed his first six shots, but scored on a dunk and Kyle Anderson followed with a 3-pointer to give the Timberwolves their first double-digit lead at 63-53 with 43 seconds left in the half
--Field Level Media