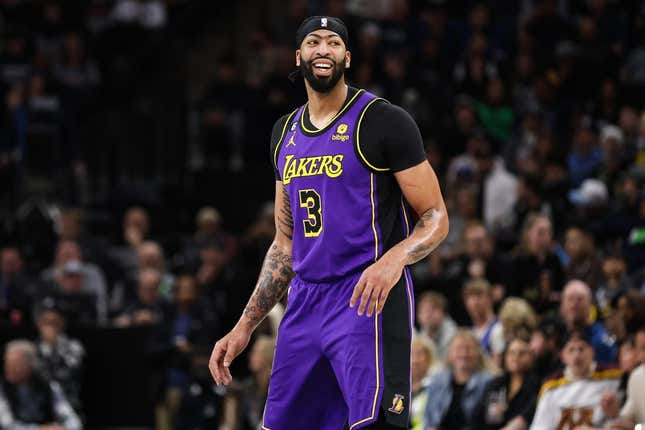 When the Los Angeles Lakers revamped their roster at the trade deadline, the primary goal was to construct a rotation capable of alleviating the workload on LeBron James and Anthony Davis
Bass' ERA stinks, but not compared to who he is off the mound | Worst of the Week Countdown
However, no matter their roster depth and despite James' transcendence, the Lakers' fortunes ultimately rest with Davis' availability and dominance. When he is both, as he was in the Lakers' 123-111 victory over the Minnesota Timberwolves on Friday, their potential is limitless
Davis posted 38 points, 17 rebounds and two blocks in the victory, powering through an ankle injury to lead the Lakers (39-38) to their fifth win in six games and into seventh place in the Western Conference. While five others scored in double figures, including James posting 18 points and 10 boards, it is clear that the Lakers -- who will face the Houston Rockets on Sunday in the second game of a four-game road trip -- are at their very best when Davis is the same
"In order for us to be at the highest level and playing at the highest level it all starts with A.D.," Lakers coach Darvin Ham said. "We have a team that can make some things happen but you've got to have that one pivotal force that's leading the charge, in our case with this particular team here in the moment, it's A.D.
Even with their recent run of wins, the Lakers have labored to build sustained momentum since adding Malik Beasley, Rui Hachimura, D'Angelo Russell and Jarred Vanderbilt. Injuries have stalled their progress, but with all hands on deck on Friday, it was Davis who propelled them
"I think he understood the assignment and knew how important this game was," James said. "I think we all knew that. We jumped on A.D.'s back and he brought us home."
The Lakers moved closer to securing a play-in tournament berth by defeating the Timberwolves, but an outside shot remains at moving up to sixth in the West and avoiding the play-in altogether. The first step to doing so is reversing the result of their last visit to Houston, a 114-110 loss on March 15 that saw the Lakers scuffle with both Davis and James sidelined
"Our focus shifts to Houston right now," James said. "They beat us last time we played them ... whenever that was so now our focus shifts to them right away. I'm going to lock in on the film as soon as I get on the plane and watch the last few games that they had and the game that we had when I didn't play a couple weeks ago. My focus shifts now."
For the second time this season and the third time in their two seasons together, Rockets guards Kevin Porter Jr. and Jalen Green both eclipsed 30 points. Porter had 33 points and four steals while Green tallied 32 points and five assists in a 121-115 win over the Detroit Pistons on Friday that snapped a seven-game losing skid for Houston (19-59)
"This is, what, our second year together? The more we be together the more deadly we will be," Porter said. "We've shown that multiple times but tonight felt good for sure."
--Field Level Media