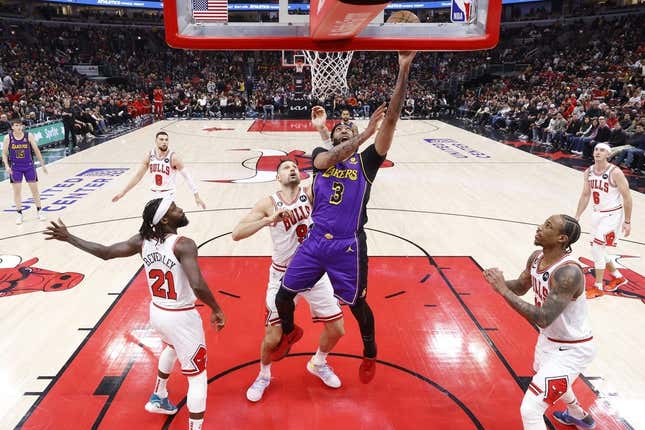 Anthony Davis had 38 points and 10 rebounds and LeBron James added 25 points to boost the visiting Los Angeles Lakers to a 121-110 win against the Chicago Bulls on Wednesday night
Marry a Taylor Heinicke, not a Tom Brady | Bert Kreischer on Love
Davis and James were a combined 23-for-39 (58.9 percent) from the floor and teamed for 17 boards as Los Angeles avenged Sunday's home loss to Chicago. The Lakers (38-38) won for the fourth time in five games to tie New Orleans for eighth place in the Western Conference
Despite losing their second straight, the Bulls (36-40) maintained a two-game lead on Washington for the No. 10 seed in the East and the final slot in the conference play-in tournament
Nikola Vucevic registered a double-double of 29 points and 12 rebounds for Chicago. DeMar DeRozan (22 points), Coby White (17), Zach LaVine (16) and Ayo Dosunmu (12) also finished with double digits. White dished a game-high nine assists.
Austin Reaves scored 19 points for Los Angeles. D'Angelo Russell, who had missed the past two games with right hip soreness, added 17 points for the Lakers in the opener of a five-game road trip. Jarred Vanderbilt had seven rebounds
Balanced scoring and steady rebounding boosted Los Angeles to a 59-51 halftime lead. Davis led the team with 16 points, while James (13) and Reaves (12) followed. The Lakers scored 17 second-chance points in the first half
Vucevic scored 19 points before intermission and DeRozan chipped in 11. LaVine was whistled for three first-half fouls for the Bulls, who showed resilience to stick around. After trailing 27-10 in the early going, Chicago later rallied to take a 35-34 lead
The loss snapped a three-game series winning streak for the Bulls, who haven't defeated the Lakers in four straight games since the 1991 NBA Finals
Los Angeles has won nine of 12 against Chicago.
Andre Drummond missed the game for the Bulls due to personal reasons. Drummond previously had tweeted his intent to delete social media to focus on his mental health
--Field Level Media