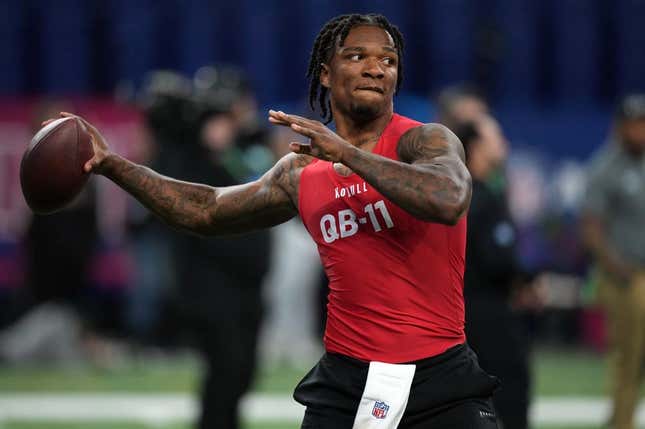 Florida's Anthony Richardson may not be projected to go No. 1 or 2 in this month's NFL draft, but however the order shakes out, Richardson wanted NFL general managers to know he won't easily be outworked by his fellow prospects.
Air Jordans are more American than McDonald's French fries | Deon Cole's Ultimate Sports Fantasy
In an open letter titled "Dear NFL GMs" on The Players' Tribune published Thursday, Richardson made a pitch for himself as some team's future franchise quarterback, promising no one will outwork him.
"I know the things people are picking apart," Richardson wrote. "People talk about whether I can be accurate. They say I don't have touch. They say I can't throw short. They say a lot of things.
"All I gotta say is: Watch how hard I work. In my mind, I can do anything with the football in my hand -- but I know that no one will ever work harder than me to improve. Whether that's my footwork, accuracy, mechanics, learning defenses, you name it. You can always grow, and that's what I'm focused on. I'm going to come in and be tireless. I'm going to put it all on the line. My family sacrificed too much for me to not give everything to this game."
Richardson's competitors are Alabama's Bryce Young, Ohio State's C.J. Stroud and Kentucky's Will Levis. Young recently rocketed past Stroud and into the favorite spot at sportsbooks around the country to go first overall to the QB-needy Carolina Panthers.
Richardson impressed evaluators with a stellar showing at the scouting combine. ESPN's most recent official mock draft predicts the Tennessee Titans trading into the No. 3 overall pick to select Richardson as a "QB of the future."
In 2022, Richardson put up 2,549 passing yards, 17 touchdowns passes and nine interceptions while rushing for 654 yards and an additional nine TDs.
Richardson's letter thanked several family members for pushing him and sacrificing for him, along with former Florida coach Dan Mullen as a "quarterback guru" figure for him.
"It's funny, when I was younger, my mom used to interview me on long car rides, like I was at a press conference or something," Richardson wrote. "I'd be like, 'Why are we doing this?' And she'd say, 'You're gonna need it one day.' And now I look at where I am, and I'm just grateful that she believed that I could be somebody."
--Field Level Media