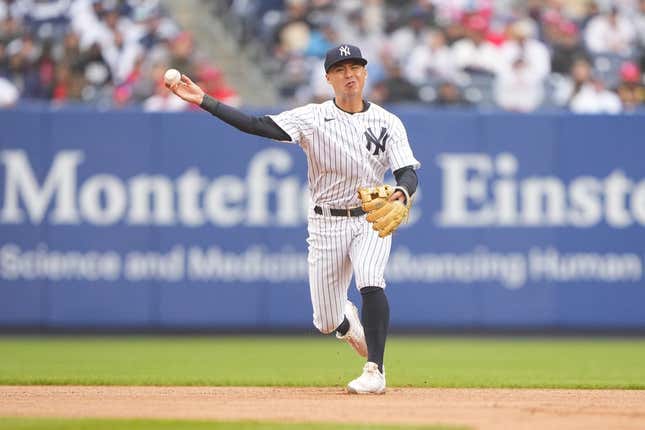 Anthony Volpe is starting to showcase some of the things the New York Yankees had hoped to see from him
'Soccer fandom is full of gatekeepers' says Ted Lasso actor Brendan Hunt
Volpe tripled and scored in New York's most recent game, and the rookie shortstop will look to continue building some momentum on Sunday when the Yankees take on the host Baltimore Orioles in the rubber match of a three-game series
The American League East rivals were originally scheduled to play a four-game set, but Thursday's opener was postponed. Each team has picked up one win since then, and Volpe is hoping to help sway things in New York's favor in the series finale.
Although he's hitting just .160 through his first eight games, Volpe, 21, is starting to find his footing.
"I think the process of that helped me settle in," Volpe said of his triple. "Taking that (0-2) pitch before allowed me to get a better result. At the end of the day, even if I'd barreled a ball and it got caught, I felt good about the process of it and the fact that I feel like I can make an adjustment."
The triple was Volpe's first extra-base hit in the major leagues, and it sparked a three-run rally in the fifth inning that carried the Yankees to a 4-1 victory
Because of that hit, Volpe was recognized by his teammates as the team's player of the game.
"Being welcomed in by these guys has made it 10 times better than I ever could have imagined," Volpe said. "They recognized that I was going through it and struggling, and they were there for me every step of the way."
New York has been relying on its pitching staff in the early going, as the Yankees have allowed no more than two runs in five of their first eight games
Left-hander Nestor Cortes (1-0, 1.80 ERA) will look to continue that trend on Sunday.
Cortes began his big-league career with the Orioles in 2018. Against Baltimore, he is 3-0 with a 1.06 ERA in seven appearances (five starts)
Right-hander Tyler Wells (0-0, 0.00) will oppose Cortes in what will be his first start of the season. He did make a relief appearance on Monday, though, working five shutout innings against the Texas Rangers.
In 10 career appearances (four starts) against the Yankees, Wells is 0-3 with a 4.39 ERA
Baltimore manager Brandon Hyde is hoping for more out of his starting pitchers as his team moves through the first full month of the season.
"We need to go deeper," Hyde said.
Part of the reliance on sturdier starting pitching could stem from the Orioles' recent offensive struggles. Baltimore had just four hits on Saturday and was held to just two in a 5-2 loss to the Rangers on Wednesday
"We just didn't have a whole lot of offense," Hyde said. "Didn't give ourselves a chance offensively."
One of the lineup's bright spots has been second baseman Adam Frazier, who has hit safely in three straight games and is batting .333 (8-for-24) through the first eight games.
"Frazer is taking great at-bats every night," Hyde said.
--Field Level Media