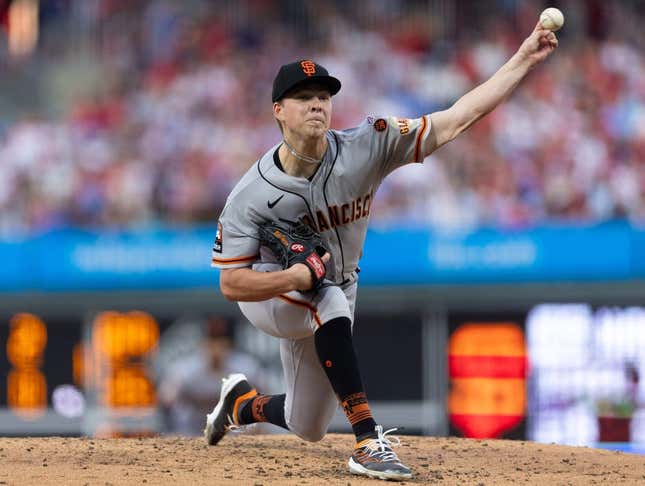 The eyes will be on the mound on Saturday night in San Diego when a pair of left-handers — one veteran, one rookie — face off as the Padres host the San Francisco Giants.
How running an NFL team is like running a restaurant | Chef Emeril Lagasse
Starting for the Padres will be Blake Snell, who has pitched far better than his 11-9 record. The former Cy Young Award winner leads the major leagues with a 2.60 earned-run average.
Starting for the San Francisco Giants (70-65) will be Kyle Harrison, who will make his third career start. After his first two impressive starts, Harrison is 1-0 with a 1.86 ERA - giving up two runs on eight hits and three walks with 16 strikeouts in 9 2/3 innings.
Padres manager Bob Melvin on Snell: "He's been as good as you can possibly be for a long time now."
Giants manager Gabe Kapler on Harrison's most recent start: "It was about as electric a performance as I've seen since I've been here in San Francisco."
It's that good on paper.
Aside from the ERA lead, the 30-year-old Snell has the lowest opponents' batting average (.192) in the majors and is second in the National League with strikeouts (193) and strikeouts per nine innings (11.66). On the flip side, he also leads the major league in walks per nine innings with 5.13.
"The walks don't bother me," Melvin said. "Snell has the ability to strike his way out of a runner on third and no-out situation."
Only twice in 18 starts since May 25 has Snell given up three runs in a start. Thirteen times he has given up no runs or one. He is 10-3 during the run and was the National League's Pitcher of the Month in June.
His August wasn't as good, as he allowed 10 runs in 30 innings for the Padres (63-73). In his career against the Giants, Snell is 4-1 with a 2.11 ERA in seven starts, with 57 strikeouts in 38 1/3 innings.
Now, Snell will face one of the sport's top late-season, feel-good stories.
Harrison made his major league debut on Aug. 22, 10 days after his 22nd birthday. The Giants' third-round pick in the 2020 draft out of De La Salle High in Concord, Calif., the 6-foot-2 Harrison is ranked as the No. 1 pitching prospect in the Giants' system. He was promoted to the majors when injuries reduced the Giants' rotation to three healthy pitchers.
In his debut, in Philadelphia, Harrison gave up two runs on five hits and a walk with five strikeouts in 3 1/3 innings. Then last Monday in his home debut in his hometown region, he shut out the Cincinnati Reds on three hits and two walks with 11 strikeouts in 6 1/3 innings.
That's the game that Kapler is talking about.
"The carry of the fastball and being able to throw it past really good hitters ... it's as good as any fastball we've seen all year," Kapler said of Harrison. "He's a rookie, and he looks like a guy we can depend on."
When Kapler went to the mound to relieve Harrison last Monday, he told the pitcher to "pause and feel it," speaking of the moment. Then he sent Harrison off the field to a standing ovation.
"To do that in front of his family and see the tears on the big screen was pretty rewarding for all of us," Kapler said. "It was a pretty big moment for everyone involved."
—Field Level Media