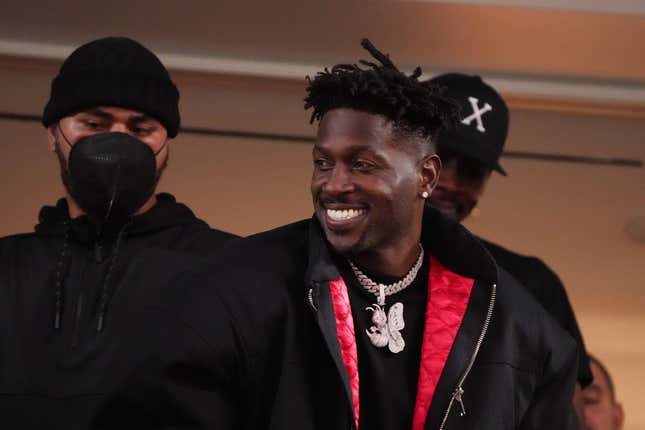 Former NFL All-Pro Antonio Brown is in a dispute with a business partner over who actually owns he Albany Empire of the National Arena League.
Black Quarterbacks = Big NFL Ratings | The SEO Show
On March 7, at a news conference in Albany, N.Y., Brown was announced as a part owner of the team. But on Saturday, Brown told the local Times Union that he owns the team.
"I'm the owner, 100 percent owner. I don't take that lightly," Brown told the newspaper in a phone interview. "My job as the owner (is) to provide the players and community, the front office, everyone that experience, the experience of Albany, and I'm excited about that role."
But Mike Kwarta, who welcomed Brown to the team at that news conference, said that isn't true. He told the newspaper that he and Brown each own 47.5 percent of the team, with Charlotte and Steve von Schiller holding the other 5 percent. He added he'd paid $774,042 in worker's compensation insurance, while Brown said he footed the entire $1.5 million bill.
When Brown was introduced as part of the ownership group in March, financial agreements were not disclosed.
Brown, the former NFL All-Pro wide receiver whose career has been marked by controversy, said Kwarta "couldn't afford things in regards of (moving) the business forward," per the report.
The Empire open their season Sunday at home against the Orlando Predators.
Brown, 34, spent some time as a child in Albany, where his father is a legend. Eddie Brown, who starred for the Albany Firebirds in the heyday of the Arena Football League, and also joined the Empire franchise as vice president of operations last month.
—Field Level Media