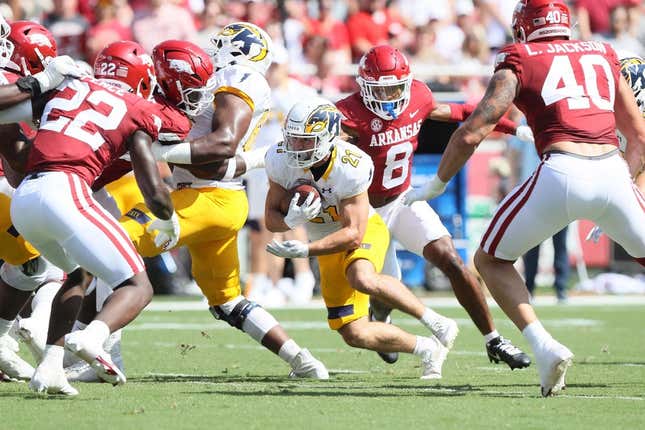 KJ Jefferson threw two touchdown passes to Andrew Armstrong and Arkansas used tough defense to stymie visiting Kent State 28-6 on Saturday in Fayetteville, Ark.
How running an NFL team is like running a restaurant | Chef Emeril Lagasse
Jefferson completed 13 of 19 passes for 136 yards and added 48 rushing yards. AJ Green ran 15 times for 82 yards to help the Razorbacks start the season 2-0.
Arkansas held Kent State (0-2) to 200 total yards, including just 26 rushing yards, and kept the Golden Flashes out of the end zone. Kent State quarterback Michael Alaimo went 11-for-17 passing for 174 yards and an interception returned for a touchdown.
Jaylen Thomas racked up 12 tackles for Arkansas. He and Trajan Jeffcoat each recorded 1.5 sacks.
Kent State opened the scoring with Andrew Glass' 48-yard field goal at the end of an 11-play, 51-yard drive. But late in the first quarter, Arkansas linebacker Antonio Grier jumped to intercept Alaimo's throw and returned it 25 yards for a touchdown.
The Golden Flashes embarked on another time-consuming drive and Glass converted from 38 yards away to trim it to 7-6.
On Arkansas' next drive, Isaac TeSlaa dove between two defenders for a 36-yard grab. Three plays later, Jefferson fumbled the snap, picked the ball off the turf, rolled right and hit a wide-open Armstrong for a 5-yard score with 2:20 before halftime.
The Razorbacks traveled 91 yards and 73 yards on consecutive scoring drives in the second half. Rashod Dubinion ran in from a yard away to cap the first drive, making it 21-6 Arkansas with 5:50 left in the third period.
Early in the fourth, Jefferson tried to connect with TeSlaa down the right sideline for a score, and Kent State committed pass interference to give Arkansas 14 yards and a new set of downs. Two plays later, Jefferson rolled left and hit Armstrong in stride on the left side of the end zone for a 9-yard score.
Trell Harris' 36-yard catch falling down set Kent State up at the Arkansas 2, but the Razorbacks' goal-line defense stood firm for four downs. Jeffcoat and Landon Jackson wrapped up Gavin Garcia for a 4-yard loss on fourth-and-goal with 6:05 left to cement the Arkansas win.
Harris led all receivers with 78 yards on four catches. TeSlaa had three receptions for 51 yards for Arkansas, and Armstrong had four for 21.
—Field Level Media