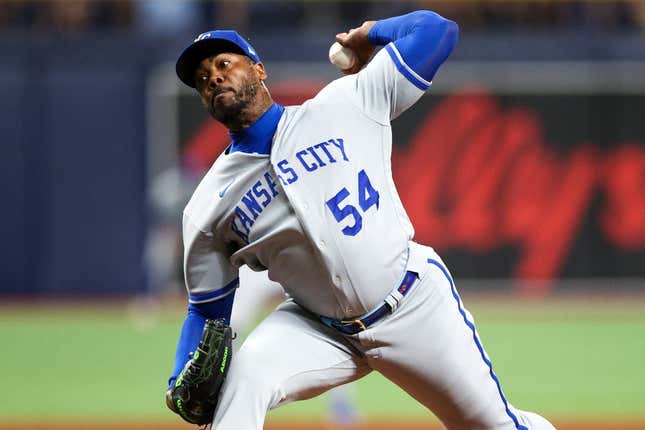 The Houston Astros-Texas Rangers series didn't need much more hype as the American League West rivals jockey for postseason position midway as the season turns to July
How running an NFL team is like running a restaurant | Chef Emeril Lagasse
However, the Rangers made the first splash of the trade season on Friday by acquiring seven-time All-Star reliever Aroldis Chapman from the Kansas City Royals
The Rangers are hopeful that Chapman is available and active for the second of this four-game series on Saturday afternoon in Arlington, Texas
Time will tell if Chapman is needed out of the bullpen, as the Rangers send right-hander Nathan Eovaldi to the mound opposite Astros right-hander Hunter Brown
For the Rangers, Chapman is expected to boost the bullpen as a hard-throwing lefty in late-game situations. He had a 2.45 ERA in 31 appearances with the Royals
"I think what we're seeing is a pitcher who's really back to the way he pitched a couple years ago," said Rangers general manager Chris Young, referring to Chapman's 2021 season when he last made the All-Star Game and saved 30 games for the Yankees
"The fastball is electric, the slider has been very good. He's got two variations of the fastball, the sinker and the four-seamer and he's just really, really tough to hit, you know? We're excited. We think he fits a need in our bullpen in terms of the swing-and-miss and being able to pitch leverage the back of the bullpen."
Eovaldi (9-3, 2.82 ERA), meanwhile, is attempting to become just the second Texas pitcher since 2013 with double-digit wins prior to the All-Star Game. Lance Lynn accomplished the feat last in 2019, going 11-4 before the break.
Eovaldi had a no-decision in his last start at the New York Yankees on Sunday, allowing two runs on four hits with two walks and five strikeouts over 5 2/3 innings. Against the Astros, Eovaldi is 2-3 with a 4.43 ERA in eight starts over his career. He earned a win in his previous start against them on Aug. 1, 2022, allowing two unearned runs on five hits over 6 1/3 innings as a member of the Boston Red Sox
For the Astros, Brown (6-4, 3.62) is 2-0 with a 0.00 ERA in two career starts vs. the Rangers. He has dominated, allowing just two unearned runs on eight hits with two walks and 10 strikeouts over a combined 13 innings
Brown faced the Rangers earlier this season on April 15, allowing two unearned runs on five hits with one walk and five strikeouts over seven innings in an 8-2 win
Offensively, Jose Altuve continues to provide a spark at the top of the lineup. He opened the series by sending the first pitch of the game over the center field fence on Friday. It marked the 1,009th career run scored by Altuve, breaking a tie for third place in franchise history with Lance Berkman (1,008). Hall of Famer Craig Biggio holds the franchise record with 1,844.
Astros shortstop Mauricio Dubon told AT&T SportsNet after Friday's game, a 5-3 Astros win, that Altuve "sets the tone" for the team
"He's a captain. He goes, we go," he said.
More importantly for Houston, Friday's victory moved it to within four games of Texas.
As Dubon said of playing in impactful rivalry games at this point of the season, "It's fun. Everybody knows what's going on. It's more fun right now, just playing these meaningful games."
--Field Level Media