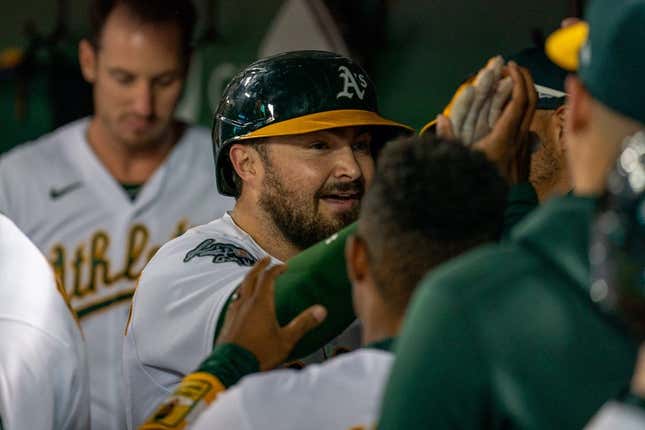 The Oakland Athletics will go for just their third series sweep of the year Wednesday afternoon when they close out a three-game set against the visiting Kansas City Royals.
How running an NFL team is like running a restaurant | Chef Emeril Lagasse
The A's improved to 4-1 against the Royals this season with 6-4 and 5-4 wins the last two nights. That puts them on the doorstep of their first three-game sweep since taking three in a row at the Milwaukee Brewers in June.
Oakland swept a two-game home series against the San Francisco Giants earlier this month.
The losingest team in baseball, the A's also had a shot at a sweep of the Royals after prevailing 12-8 and 5-4 at Kansas City in early May, but they fell 5-1 in the series finale.
Oakland catcher Shea Langeliers has been a difference-maker in the first two games of the rematch series, homering in each.
The two bombs give the second-year major-leaguer three homers in his past 14 games after he began his career with just 16 in his first 131 games following his acquisition from the Atlanta Braves in March 2022 as part of the Matt Olson deal.
"We all knew the power was there," A's manager Mark Kotsay said after the Tuesday win. "He hit throughout the minor leagues (with the Braves). The bat was really talked about in the trade.
"This isn't easy at this level to come up here and have immediate success. We saw it with Sean Murphy in his first full season. I think we're seeing it now with Shea as well. He's progressing. It's a good sign."
One day after Oakland's Dany Jimenez threw a perfect inning in his first career start while serving as an opener, the A's will head down a similar road on Wednesday. Right-hander Adrian Martinez (0-1, 5.85 ERA) will be the opener in his first start of the season after 14 relief outings.
Martinez is 0-1 with a 6.23 ERA in three appearances this month. He has never opposed Kansas City in his two major league seasons.
The Royals will go with left-hander Cole Ragans (4-4, 4.08), who has pitched well in five starts (2-1, 2.51) since joining Kansas City from the Texas Rangers at midseason.
He was the winning pitcher in a 4-3 victory at the Chicago Cubs on Friday in his most recent start, allowing three runs in six innings while striking out nine.
The 25-year-old faced the A's in relief for the Rangers on May 12, allowing one run in 1 1/3 innings during a no-decision at Oakland. He is 0-1 with a 9.58 ERA in three career outings against the A's, including a pair of starts last season.
The Royals took their 13th loss in 17 games on Tuesday. Their past 10 defeats have all been by either one or two runs.
"These games, they're all different," Royals manager Matt Quatraro said when asked whether there was a common theme to the recent setbacks. "We've been in front and given it up. We've been behind and got tied. ... We just didn't have enough to get over the top (on Tuesday). There's not one answer. It's just playing clean baseball."
One positive in the latest loss was the return of Zack Greinke from elbow soreness. The team ace came out of the bullpen in the 5-4 defeat, shutting out the A's in the fourth through seventh innings, giving the Royals a shot at a comeback.
Quatraro didn't announce a next step for the 39-year-old right-hander after his 53-pitch outing.
—Field Level Media