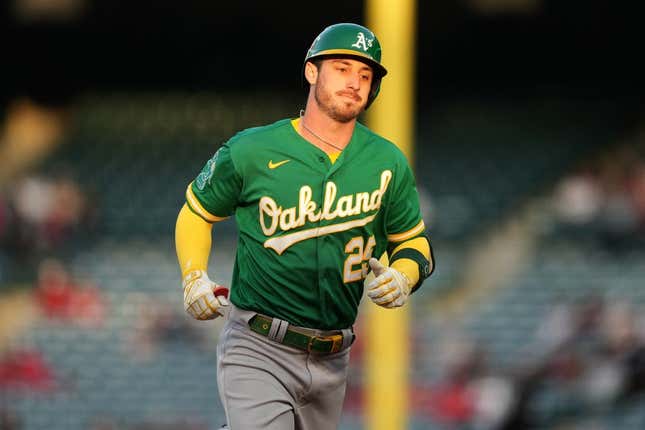 The Los Angeles Angels will oppose the Oakland A's on Tuesday in Anaheim, Calif., with a lineup that boasts big names but for the time being has a significant hole
Aaron Rodgers should go full Joe Namath | Comedian Bert Kreischer
The Angels are without their top two catchers, as Max Stassi is out indefinitely and rookie Logan O'Hoppe will miss four to six months because of a shoulder injury
Stassi had to leave the club late in spring training because of a family emergency, and when he returned he strained his hip. There is no timetable for his return.
O'Hoppe, acquired by the Angels last August in a trade-deadline deal that sent outfielder Brandon Marsh to the Philadelphia Phillies, was off to a hot start, hitting .283 with four homers and 13 RBIs in 16 games. He had taken over the starting duties
However, he sustained a torn labrum in his left shoulder on a swing in a game against the New York Yankees last Thursday. As a result, the Angels have turned to Chad Wallach, son of former major-leaguer Tim Wallach, and Matt Thaiss, who has just 19 games of experience behind the plate in his five major league seasons
For now, the two will share the catching duties.
"I feel good about what we currently have," Angels general manager Perry Minasian said. "Matt's developing on a day-to-day basis. He's getting better every day. Chad's been there and done that. He's a veteran who has caught playoff games and can handle a pitching staff.
Wallach went 2-for-4 with a home run on Monday in the Angels' 11-10, 10-inning loss to the A's. He has hit two homers in three games since being called up last week
Los Angeles also got two homers on Monday from Brandon Drury, but Oakland socked five long balls. Brent Rooker and Jesus Aguilar belted back-to-back homers in the first and third innings, and Kevin Smith added a three-run shot.
It was the first time in franchise history that two Athletics hit back-to-back long balls in the same game
"We swung the bats tonight and it was good to see," Oakland manager Mark Kotsay said. "Guys were aggressive and we played a little offense as well."
Charged with slowing the Athletics' bats on Tuesday will be Griffin Canning (0-0, 3.48 ERA). The Angels right-hander got a no-decision his last time out when he gave up two runs and four hits in 5 1/3 innings against the New York Yankees on Wednesday
Canning is 1-3 with a 4.71 ERA in seven career starts vs. Oakland.
Right-hander Mason Miller (0-0, 4.35 ERA) will make his second career start for the A's. He gave up two runs and four hits in 4 1/3 innings against the Chicago Cubs last Wednesday in his major league debut, impressing onlookers with a fastball that hit 100 mph or higher 15 times. Two of those fastballs topped 102 mph.
Five years ago while at Division III Waynesburg University, Miller weighed just 150 pounds despite a 6-foot-5 frame. A drug test showed his blood sugar was abnormally high and he was diagnosed with Type 1 juvenile diabetes.
After he was put on a proper diet and began a strength training program, he saw his weight soar to 220 pounds, and the velocity on his fastball increased from 87 mph to 99 mph.
"You think about this kid and where he's come from," A's manager Mark Kotsay said. "If you're sitting there as an A's fan, this should excite you. This should be something that you're looking at and saying, 'This kid can be a part of our future success.'"
Miller was 1-0 with a 2.08 ERA in two minor league starts this season, striking out 19 in 8 2/3 innings.
--Field Level Media