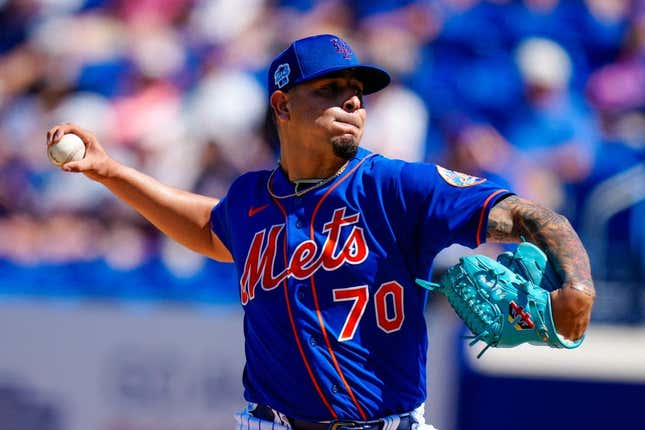 The struggling Oakland Athletics, losers of nine of their past 10 games, got some good news after their loss to the New York Mets on Saturday
'Soccer fandom is full of gatekeepers' says Ted Lasso actor Brendan Hunt
They won't have to face three-time Cy Young Award winner Max Scherzer -- who hasn't lost to the A's since Sept. 15, 2011 -- in Sunday's series finale.
Mets manager Buck Showalter said he decided to delay Scherzer's scheduled start by three days to give some time for the pitcher's sore back and side to feel better
Instead, Showalter will hand the ball to 25-year-old right-hander Jose Butto, whose only major league appearance came last Aug. 21 against the Philadelphia Phillies. He gave up seven earned runs on nine hits, including two home runs, in four innings. He didn't figure in the decision in the Mets' win
Showalter didn't appear concerned about the veteran Scherzer, who is expected to pitch Wednesday when the Mets continue their 10-game West Coast swing in Los Angeles against the Dodgers
"We were going to insert a starter anyway, so we thought we'd get it out of the way now," Showalter said. "He'll be fine. He'll be ready to go Wednesday. He could pitch (Sunday), but since we were going to insert a guy anyways, might as well do it there."
The Mets started the long road trip with a pair of wins against the A's. They used 17 walks to set the stage for a 17-6 snoozer Friday night before riding the combined five-hit pitching of Carlos Carrasco and four relievers in a 3-2 decision Saturday
Pete Alonso and former A's outfielder Mark Canha contributed home runs to Saturday's win.
Butto will see an A's team that, according to manager Mark Kotsay, looked a whole lot different in Saturday's competitive effort than in Friday's embarrassing defeat.
Oakland held a 2-1 lead through six innings in Saturday's game, and even after falling behind in the seventh inning, threatened with two runners in scoring position in the eighth and another in the ninth.
"It was a great bounce-back," Kotsay said. "For me, we're doing things right. We've got to continue to do things right, continue to improve."
Left-hander JP Sears (0-1, 5.59 ERA) personified that improvement when he limited the Baltimore Orioles to three hits in five innings in the A's 5-1 loss Monday. He had been roughed up for eight hits in 4 2/3 innings in his season debut against the Cleveland Guardians.
Sears would like to forget his outing against Scherzer and the Mets last September in Oakland, when he gave up a two-run single to Eduardo Escobar and a two-run double to Francisco Lindor among eight hits and six runs in 3 2/3 innings in the 13-4 shellacking
The outing left the former New York Yankee with a career 0-1 record and 14.73 ERA against his one-time rival.
Sears will have to be especially cautious with how he pitches to Alonso, who leads the National League in home runs with seven, and to Lindor, a co-leader in the RBIs category with 15.
And Kotsay issued a challenge to his entire pitching staff after Friday night's 17-hit debacle to cut down on the bases on balls.
"We've been continually sending the message to these guys that they've got to throw strikes," Kotsay said, according to The Mercury News.
"Throw strikes in the middle of the plate right now. Don't walk anybody. If you get hit, you get hit. We'll go from there. So that's the continued message that we're gonna pound.
"It's killed us all season, and we've got to address it, and we've got to get better."
--Field Level Media