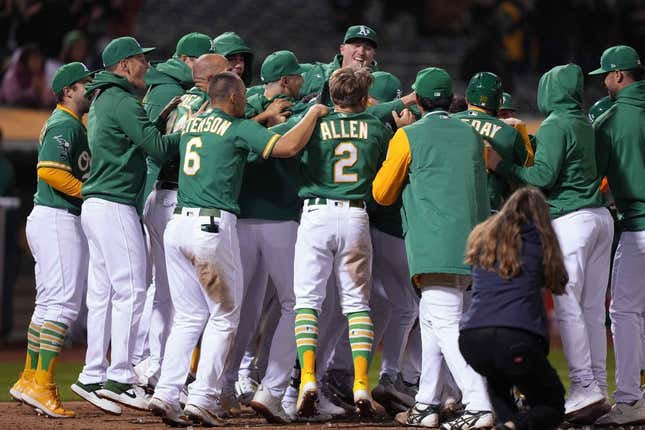 The Oakland Athletics will seek to avoid a day-after letdown when they take on the visiting Texas Rangers in a quick turnaround Saturday afternoon
Bass' ERA stinks, but not compared to who he is off the mound | Worst of the Week Countdown
With the Rangers two runs up and the A's three outs from a sixth consecutive defeat, Oakland rallied in the bottom of the 10th inning on Friday night, turning deficit into triumph when Brent Rooker bombed a three-run, walk-off home run to cap a four-run uprising in a 9-7 win
The victory was extra special for Shintaro Fujinami, the Athletics' prized Japanese import who had been demoted from starter to reliever earlier this season. The right-hander came out of the bullpen to record the last two outs in the top of the 10th, for which he -- after the dramatic rally -- was rewarded with his first U.S. baseball win
"For either team, losing that game was a heartbreak," said Oakland manager Mark Kotsay, who is well aware of the feeling due to his team's major-league-leading 31 defeats.
"For us to be on the winning side tonight ... the celebration in the clubhouse, the pride, the fight ... We easily could have laid down and gone through the motions (down 7-5 in the last of the 10th). But that didn't happen tonight."
With one swing of the bat, the A's will look to build on a rare air of momentum while trying to duplicate one of their few positives from earlier in the season.
That was when Saturday's scheduled starters -- A's left-hander JP Sears (0-3, 5.54 ERA) and Rangers right-hander Jon Gray (2-1, 3.82) -- matched up in the opener of a three-game set in Texas on April 21
Oakland also won that game in dramatic fashion, getting a tie-breaking home run from Jordan Diaz, the first long ball of his major league career, in the ninth inning for a 5-4 win.
Sears struck out a career-high 11 that day -- including Marcus Semien, Robbie Grossman and Josh Jung twice apiece -- but only after allowing a four-run first inning that featured a three-run homer by Jonah Heim.
Sears threw five shutout innings after the first and did not get a decision. In fact, he remains winless in his past nine outings (eight starts) dating to last season.
The 27-year-old has made three starts against the Rangers in his two-year career, going 1-0 with a 5.40 ERA
Gray allowed the first four of Oakland's five runs, one unearned, in 5 1/3 innings. Tony Kemp homered off Gray, but it was Rangers closer Will Smith who served up the difference-making blast to Diaz, who was pinch-hitting for Ryan Noda
Gray, 31, is 1-1 with a 5.66 ERA in four lifetime starts vs. Oakland.
Heim had two hits on Friday, raising his average to .319 and reminding the A's, the team that included him in a package to get Elvis Andrus from the Rangers in 2021, what they are missing
The 27-year-old switch-hitting catcher credits A's minor league instruction for making him a major-leaguer.
"My first couple years in pro ball was a struggle hitting-wise. I went through some swing changes that didn't really take for me," said Heim, who had played in the Baltimore Orioles' and Tampa Bay Rays' organizations before being dealt to the A's in December 2017. "That's really where I took off from both sides of the plate."
--Field Level Media