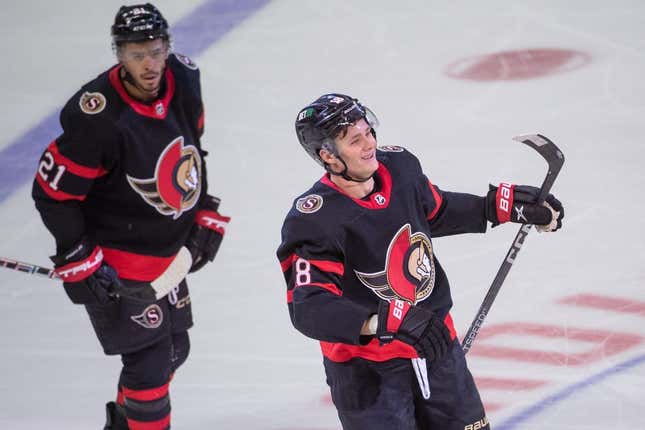 With Ottawa Senators fans chanting "We want playoffs!" in the closing stages of Saturday's victory against Columbus, one of the hottest members of the surging club took note.
How running an NFL team is like running a restaurant | Chef Emeril Lagasse
"It kind of gave me chills, to be honest," Ottawa's Tim Stutzle said. "It was so loud and it was awesome. We're playing great right now and hope to keep it going."
Winners of five straight and 12 of 16, the Senators will open a five-game road trip Monday with a visit to the slumping Chicago Blackhawks.
Don't look now, but the Senators have firmly put themselves in position to clinch an Eastern Conference playoff berth, standing three points behind Pittsburgh for the second wild-card spot.
Stutzle scored twice against Columbus to extend his goal streak to four games while surpassing the 30-goal plateau for the first time in his three seasons. Brady Tkachuk contributed an assist and has two goals and four assists during a five-game point streak.
Ottawa has outscored opponents 27-10 during the winning streak.
"Credit to our guys for dragging this group along when we were down and out, essentially," Senators coach D.J. Smith said. "What they've done here of late and what they did to stay afloat in December and January, our core group of guys obviously believe in each other, and obviously, there is buzz.
"But there's still lots of track left here."
One of Ottawa's four losses over the past six weeks came against Chicago, as Andreas Athanasiou scored the overtime winner for the visiting Blackhawks on Feb. 17.
Patrick Kane tallied a pair of goals for the Blackhawks in that game, but he since has been traded to the New York Rangers, one of multiple deals Chicago made before the trade deadline.
Forward Anders Bjork and defenseman Nikita Zaitsev, a former Senator, made their team debuts during Saturday's 3-1 home loss to Nashville, Chicago's fourth straight defeat.
Athanasiou assisted on the Blackhawks' lone goal, a Seth Jones tally 37 seconds into the game.
"I think it's always nice to start great," Chicago's MacKenzie Entwistle said. "First shift we get a goal, then I thought we battled pretty hard most of the game. We limited their chances, and (goaltender Petr) Mrazek played great. Obviously, it's frustrating not being able to pull away with the win, but I thought we generated some offense. We had some chances; just maybe a little bit of puck luck and the game may be a little different."
Chicago has been outscored 16-6 during its losing streak.
It's the club's fifth skid of at least four games this season, although coach Luke Richardson sees some positive trends developing.
"I thought the first part of the first two periods we played better, and then we kind of dropped off," Richardson said. "We were more physical, skating, had the puck, driving offensive plays more ... and then we seemed to be a little bit too much in the (defensive) zone and not enough in the (offensive) zone.
"But our guys played and our guys played to the game plan well. It kind of fell off a little bit for pace for me, but I think we're still trying to find ourselves."
--Field Level Media