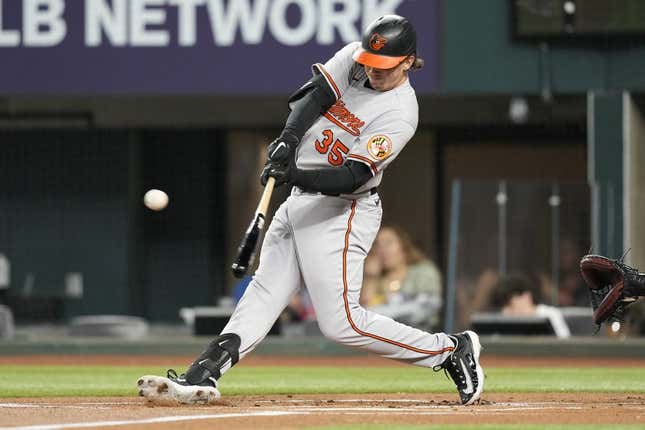 The Oakland Athletics and Baltimore Orioles have something in common going into Monday night's game
Air Jordans are more American than McDonald's French fries | Deon Cole's Ultimate Sports Fantasy
They should be happy to see each other.
After a rough weekend for both teams, they will meet for the first time this season to begin the four-game series in Baltimore.
The Athletics have dropped four games in a row, including the past three to undefeated Tampa Bay. The last two games ended with 11-0 final scores
"We came in here and I thought we played pretty good baseball against Cleveland, (but) we've got to put this series behind us," Oakland manager Mark Kotsay said. The A's won one of three games against the Guardians, but the two losses were in 10 innings.
The Orioles, meanwhile, managed only four runs combined across the last two games against the New York Yankees, enduring their second two-game skid of the season
"We're playing some close games," Orioles manager Brandon Hyde said. "I feel like we're making some mistakes that we can't do against good clubs. We're not playing our best defense. But we've got a long way to go, and it's a lot of year left.
Despite those troubles, former No. 1 overall draft pick Adley Rutschman was 4-for-4 with a solo home run Sunday for Baltimore. It was his second multi-hit game of the season, and he went 6-for-9 with four walks in the New York series.
"I just try to go about my process the same every day," Rutschman said. "Try not to look at results as much as I can. I'm attacking every day the same as far as my swing goes."
The Orioles will have right-hander Kyle Gibson (2-0, 4.50 ERA) on the mound to start this series. He has gone five and seven innings in his first season with Baltimore
Gibson holds a 5-3 record with a 4.05 ERA in 10 career starts against the Athletics
Left-hander JP Sears (0-0, 5.79 ERA) is Oakland's starter. He went 4 2/3 innings in his only appearance this season in a start against Cleveland.
Sears has only six major league wins, and one-third of those are against the Orioles. He's 2-0 with a 1.50 ERA in three outings (two starts) vs. Baltimore
Kotsay, whose team was outscored 31-5 in the series with the Rays, saw too many defensive blunders along the way.
"We've got to shore up some things," he said. "It's good to get the bad things out of the way now. It was a tough series for us. We have to stay positive, stay confident and keep moving forward."
The problems aren't limited to defense. The Athletics have struggled with the bats, managing one hit Sunday. They have lost seven of their last eight games
Oakland outfielder Seth Brown seems destined for the injury list with an oblique ailment.
The Orioles made a move Sunday by optioning outfielder Kyle Stowers to Triple-A Norfolk. They needed a roster spot for catcher James McCann
"Still really early in his career," Hyde said of Stowers, who had only six plate appearances while appearing in three games this season.
"We thought it was important for Kyle to go get some everyday at-bats in Triple-A. I'm sure he'll get (back) up here at some point," Hyde said.
The Athletics won four of seven games against the Orioles last season
--Field Level Media