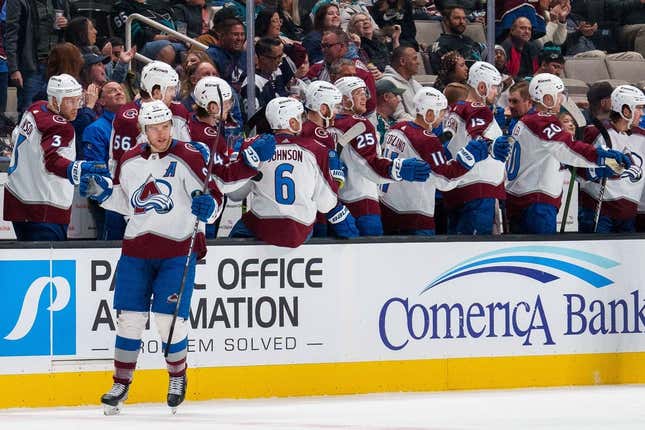 The Colorado Avalanche and Los Angeles Kings will soon be headed to the Stanley Cup Playoffs, but they're trending in opposite directions with just a week left in the regular season
The Avalanche (47-24-6, 100 points) have won 12 of their past 14 games to climb into a tie for first with the Dallas Stars atop the Central Division standings
Colorado owns the tiebreaker heading into Saturday because it has played one fewer game than Dallas. The Stars host the Pacific Division-leading Vegas Golden Knights on Saturday.
Sitting just two points back of the Avalanche and Stars are the Minnesota Wild, who host the St. Louis Blues on Saturday
"The standings are really tight, so we're pushing for first place in our division," said Colorado forward Mikko Rantanen, who notched his third hat trick of the season in a 6-2 win at the San Jose Sharks on Thursday. "It's been good lately, but you still have tough teams to face."
The Kings (45-24-10, 100 points) were the hottest team in the NHL for most of last month, producing a franchise-record 12-game point streak (10-0-2), but injuries have taken their toll in recent games and they've lost four of the past six
Several times last month, the Kings moved into a points tie with the Golden Knights atop the Pacific Division, but now they sit in third place, six points behind Vegas and three behind the surging Edmonton Oilers
Los Angeles had a chance to close the gap on the Golden Knights on Thursday night in Las Vegas, but it lost 5-2 in one of its poorer performances since the All-Star break.
"We didn't see it coming," Kings coach Todd McLellan said. "We thought we would be ready to go and very excited about playing this game, the opportunity that was in front of us. They happen, it's unfortunate it happened (against Vegas). We've got to get home and we'll fix some things and then we'll get ready to play.
The Kings continue to be without leading point scorer Kevin Fiala, who has missed the past three games with a lower-body injury
Gabriel Vilardi, who has 23 goals for the Kings this season, has missed the past six games with an upper-body injury, and defensemen Mikey Anderson and Alexander Edler have missed recent games with upper-body injuries
Despite being short-handed, McLellan said the Kings got away from their usual habits against Vegas
"We have rules that we follow," he said. "If we don't follow them, we have no chance, and we tried to play without them for 20 minutes. I think that will be our focus way more than the success on a penalty kill or on a power play."
The Avalanche have been one of the most injury-plagued teams this season and those challenges continue
Cale Makar, who last year won the Norris Trophy as the NHL's top defenseman and the Conn Smythe Trophy as the MVP of the Stanley Cup Playoffs, has missed the past two games with a lower-body injury. Makar missed nine games in a 10-game stretch from Feb. 9-March 1 with a concussion, as well as four games with an upper-body injury from Jan. 18-24.
He traveled with the team to Los Angeles, however, so Makar could be in line for a return against the Kings or to close out the road trip Sunday against the Anaheim Ducks
--Field Level Media