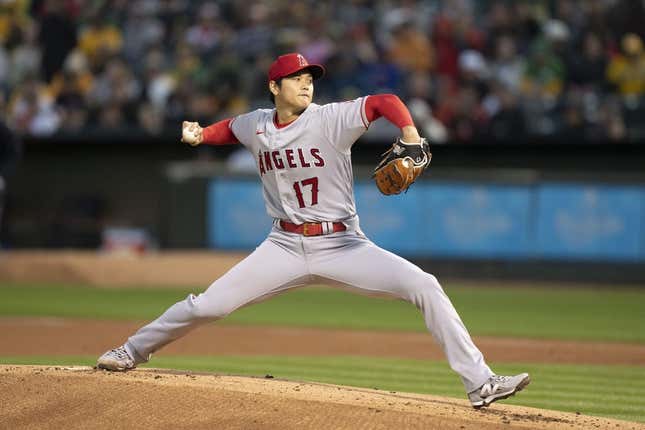 Tony Kemp and Aledmys Diaz spoiled Shohei Ohtani's impressive season debut with RBI hits in a two-run, eighth-inning rally Thursday night that delivered the host Oakland Athletics a 2-1 victory over the Los Angeles Angels on Opening Day
Air Jordans are more American than McDonald's French fries | Deon Cole's Ultimate Sports Fantasy
Ohtani didn't get a decision in the game despite leaving with a 1-0 lead after six innings, during which he limited the A's to two hits and three walks.
The star right-hander struck out 10, a figure he reached 10 times in 28 starts last season.
Rookie left-hander Kyle Muller, making his A's debut, kept Oakland within striking distance, allowing just one run in his five innings, setting the stage for his teammates' late heroics.
Another A's newcomer, Esteury Ruiz, led off the eighth with a single off the Angels' third pitcher, left-hander Aaron Loup (0-1)
After failing to bunt, Kemp drilled a two-strike pitch over the head of Angels center fielder Mike Trout, easily scoring the speedy Ruiz from first with the tying run
After Loup struck out pinch-hitter Brent Rooker for the first out, Diaz greeted Ryan Tepera with a line-drive single to left-center, plating Kemp with the go-ahead run.
Dany Jimenez worked around a one-out walk in the ninth, saving the win for the A's fourth pitcher, Trevor May (1-0), who worked a scoreless eighth.
The closest Oakland came to scoring off Ohtani was in the fourth, after the Los Angeles ace had thrown no-hit ball for 3 1/3 innings.
Diaz ended the no-hit bid with a single and Seth Brown delivered a double, but Ohtani stranded the baserunners at second and third by striking out Jesus Aguilar and Ramon Laureano.
Muller, who made 11 starts for the Atlanta Braves the last two seasons, matched zeroes with Ohtani until, with one out in the fifth, Angels newcomer Gio Urshela beat out an infield single on which Diaz's throwing error from shortstop allowed the batter to advance to second
A wild pitch moved Urshela to third, from where he jogged home on Logan O'Hoppe's single to left.
Muller allowed four hits and one walk in his five innings, striking out three.
--Field Level Media