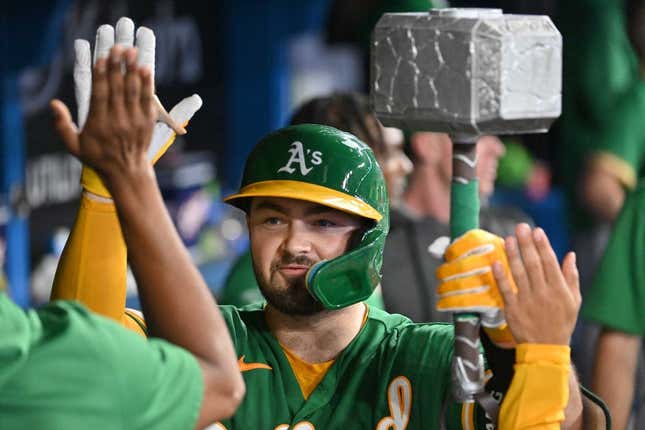 The visiting Oakland Athletics ended an eight-game losing streak on Friday night, putting themselves in a position to clinch their three-game series against the Toronto Blue Jays on Saturday afternoon
How running an NFL team is like running a restaurant | Chef Emeril Lagasse
After losing five one-run games during the losing streak, the Athletics found out what it was like to be on the other side of that scenario in the opener at Toronto. Shea Langeliers hit a solo home run in the top of the ninth that led to a 5-4 victory
The Athletics are 12-16 in one-run games this season
"That's a great win," Oakland manager Mark Kotsay said postgame. "We've lost quite a few one-run games. We talked about that prior to the game tonight with the group. Tonight is kind of a reflection of taking care of the details in the game."
As bad as the season has been for the Athletics, they did win seven in a row immediately before the eight-game losing streak
Langeliers also had an RBI single as Oakland struck for three runs in the first inning against right-hander Chris Bassitt, a former Athletics starter. JJ Bleday had a two-run homer in the first and a sacrifice fly in the fifth that tied the game
Langeliers went deep on a 1-1 slider from Blue Jays closer Jordan Romano, his ninth home run of the season. He said that he was "a little amped up" when he swung and missed on Romano's first pitch, a high fastball
"From there I just focused on getting a pitch I could handle and just put my 'A' swing on it," Langeliers said.
Oakland is scheduled to start Hogan Harris (2-1, 4.45 ERA) on Saturday. The left-hander will make his seventh career major league appearance and third start.
In his most recent outing, Harris took a loss a 3-2 loss to the Philadelphia Phillies on Sunday. He allowed two runs and four hits while striking out seven without issuing a walk in six innings. Harris has yet to face Toronto.
Right-hander Jose Berrios (7-5, 3.64) is scheduled to start for the Blue Jays on Saturday. In eight career starts against Oakland, he is 1-3 with a 3.91 ERA
Berrios had won four consecutive decisions before taking a loss on Monday at Miami, where he gave up five runs on eight hits in four innings.
The series against Oakland opens a nine-game homestand for the Blue Jays, who completed a 4-5 road trip with two straight wins against the Marlins on Tuesday and Wednesday after losing the series opener 11-0 on Monday
In the opener against the A's, Toronto scored all four of their runs in the third inning, three on the 10th home run of the season from Vladimir Guerrero Jr.
It was his first home run since June 4 and his first long ball at home this season.
"That was good to see," Blue Jays manager John Schneider said. "With Vlad, if he can continue to do that, we're going to be in a really good spot.
Oakland placed Ramon Laureano (fractured right hand) on the injured list on Friday and recalled Conner Capel from Triple-A Las Vegas.
Capel started in left field Friday night and threw out Matt Chapman trying for a double in the second inning. At the plate, he went 1-for-3 with a double and was hit by a pitch.
Toronto shortstop Bo Bichette returned to the lineup and went 1-for-4 with a double on Friday after sitting out on Wednesday due to a sore left thumb.
--Field Level Media