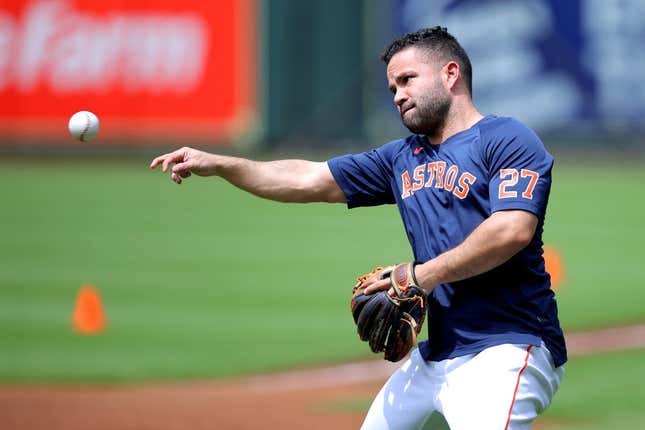 Houston Astros second baseman Jose Altuve is set to make his season debut Friday night against the Oakland Athletics after the team activated him from the injured list
Bass' ERA stinks, but not compared to who he is off the mound | Worst of the Week Countdown
He had surgery in March after breaking his right thumb during the World Baseball Classic.
At the time of the injury on March 22, it was expected Altuve would miss eight weeks of the regular season.
And eight weeks and a few days later, he's back, with the Astros announcing his return Friday with a video posted to Twitter
Altuve, 33, is in his 13th season with Houston. He batted .300 with 28 homers, 57 RBIs and 18 steals in 141 games last season.
The three-time batting champion has a .307 career mark to go with 192 homers, 696 RBIs and 279 steals. He has helped the Astros win two World Series, including a title in six games over the Philadelphia Phillies last season
He is an eight-time All-Star and was named American League MVP in 2017.
Without Altuve in his customary leadoff spot, the Astros have struggled to score this season. They have just 191 runs through 43 games, tied for 15th in the major leagues. Still, minus their sparkplug, they are 24-19 and in second place in the American League West, two games back of the Texas Rangers
Altuve completed a minor-league rehab assignment and was just 2-for-22 with four strikeouts in five games.
--Field Level Media