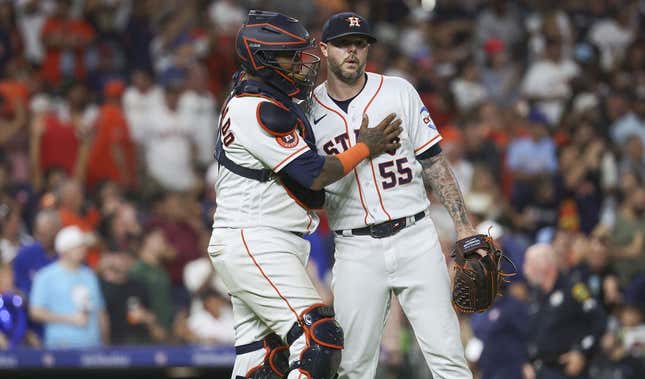 In what could easily be constructed as a second stroke of good fortune in as many games, the Houston Astros won a decisive replay review in the top of the eighth inning on Tuesday on a challenge that mirrored the one the Texas Rangers lost to end the series opener
How running an NFL team is like running a restaurant | Chef Emeril Lagasse
And with two wins now behind them to open the series between the Texas teams, the Astros will look for a sweep Wednesday night in Houston -- and a tie atop the American League West standings
On Tuesday, with the Astros leading 4-1 and Marcus Semien stationed on first base, Texas left fielder Travis Jankowski roped a double to left field. Semien attempted to score on the play and appeared to beat the relay throw from shortstop Jeremy Pena. But Astros manager Dusty Baker challenged the call on the field and it subsequently was overturned following a review, with Houston ultimately holding on for a 4-3 victory that sliced Texas' lead in the division to one game
The Rangers attempted a similar gambit on a walk-off single by Yainer Diaz that scored Kyle Tucker in the Astros' 10-9 win on Monday. That close call at that plate was upheld, with the timing of the challenges proving paramount to the decisions rendered by both managers
"At that point in time late in the game, you don't have a whole bunch to lose," Baker said. "If it had been earlier and you lose a challenge, you're out of challenges.
"At that point with the naked eye, you can't really tell on that play. Some plays you can tell but that one you couldn't tell if his foot got in there or not, so we have to depend on our video replay guys to give us their honest opinion and not be emotional for the home team."
On Wednesday, Baker will send left-hander Framber Valdez (8-6, 2.94 ERA) to the mound, hoping the All-Star selection can reverse his recent fortunes, too.
Valdez has scuffled this month, going 1-0 with a 5.71 ERA over three starts. He has allowed nine runs on 13 hits and four walks with 17 strikeouts over his past two starts (11 1/3 innings). However, he ranks fifth in the American League in quality starts (13), innings (122 1/3) and ERA.
Valdez is 6-4 with a 2.47 ERA over 14 career appearances (11 starts) against the Rangers. He allowed five runs (one earned) on four hits and two walks with seven strikeouts over six innings in a 9-1 loss to Texas on April 16
Left-hander Andrew Heaney (6-6, 4.58) is the scheduled starter for Texas in the finale.
Heaney is 1-2 with a 6.38 ERA over his past five starts after not factoring into the decision of his most recent appearance on Friday against the Los Angeles Dodgers. He allowed four runs on five hits and three walks with three strikeouts in five innings in the Rangers' 11-5 loss
Heaney is 3-4 with a 3.04 ERA over 13 career starts against the Astros. He has not recorded a decision across two starts against Houston this season despite logging a combined 10 scoreless innings while allowing just five hits and four walks against 12 strikeouts
The teams split those two Heaney starts, and both the Astros and Rangers need a win on Wednesday. Texas held a 6 1/2-game lead on the Astros on June 23, and a win would push their AL West lead back to two games. A loss means a tie and the momentum going the way of the Astros, who expect to soon return Jose Altuve and Yordan Alvarez from injury
Rangers manager Bruce Bochy isn't ready to push the panic button
"The mindset is come out there and try to win a ballgame," Bochy said. "That's never going to change. We've lost two tough games here. We keep fighting like that we'll be fine."
--Field Level Media