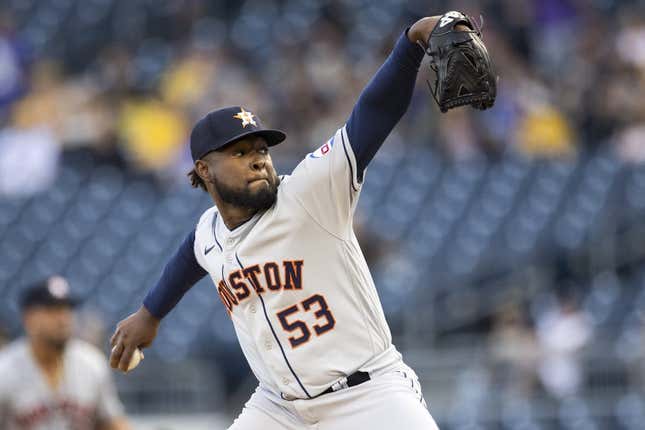 After failing in their latest attempt to claw back to .500, the reigning World Series champion Houston Astros begin a three-game home series against the Toronto Blue Jays starting Monday
Will South Beach Flu give the Heat home court advantage? | Keep it a Buck(et)
Sunday's result wasn't favorable, and the Astros again fell short in their latest bid to get out of the red, but relative to the long-term health of their bullpen, they got what they sought
The Texas Rangers claimed a 9-1 win over the Astros in the rubber match of their three-game weekend series, but despite the blowout loss, Houston utilized only two relievers after starter Framber Valdez departed with the bases loaded and trailing 2-0 in the seventh inning
Valdez logged seven innings in each of his two previous starts and was trending in that direction on Sunday. Texas' six-run seventh negated the need for Houston to dig deep into its bullpen and, after Hunter Brown pitched seven innings on Saturday, that bullpen remains in good shape with the hard-hitting Blue Jays coming
"This is kind of what we had last year with (Justin) Verlander and Framber," Astros manager Dusty Baker said. "And then you see how sharp it keeps your bullpen. That's what it does when you get that length, and if you can get consecutive length, now everybody is doing pretty good
"How you stack your rotation, you try to match length or cover a lesser-inning guy with a longer-inning guy. It's all in theory, of course."
Right-hander Cristian Javier (1-0, 4.24 ERA) will start the series opener for Houston on Monday. He allowed four runs on five hits -- including two home runs -- and one walk with three strikeouts over six innings against the Pittsburgh Pirates last Tuesday but did not factor into the decision of a 7-4 loss. He has issued only two walks while posting 14 strikeouts in 17 innings.
Javier has faced the Blue Jays once previously, allowing five runs on four hits -- including two home runs -- and four walks with eight strikeouts over 5 1/3 innings in an 8-4 loss on May 8, 2021
Right-hander Kevin Gausman (1-1, 1.35) is slated to start for the Blue Jays on Monday. Despite allowing his first earned runs of the season in his previous start on Wednesday, Gausman did not factor into the decision of the Blue Jays' 4-3 win over Detroit after surrendering three runs on five hits with 11 strikeouts over eight innings
He allowed a total of three unearned runs over his first two starts while splitting decisions against the St. Louis Cardinals and Kansas City Royals.
Gausman is 2-3 with a 4.55 ERA over five career starts against the Astros, posting 36 strikeouts against only four walks in 29 2/3 innings. He faced the Astros once last season, surrendering two runs on six hits and no walks with 10 strikeouts over seven innings in a 3-2 victory on May 1
An 8-1 home loss to the Tampa Bay Rays on Sunday prevented the Blue Jays from recording their first series sweep of the season. Still, Toronto handed the Rays their first two losses over the weekend and has won nine of its last 12 overall
The Blue Jays embark on a six-game road trip having won four consecutive series, the objective of every team with legitimate postseason aspirations
"That's the goal every series, whether two out of three or three out of four," Blue Jays manager John Schneider said. "You've got to keep plodding along and these things add up over the course of 162 (games). So that's the goal going in every time.
--Field Level Media