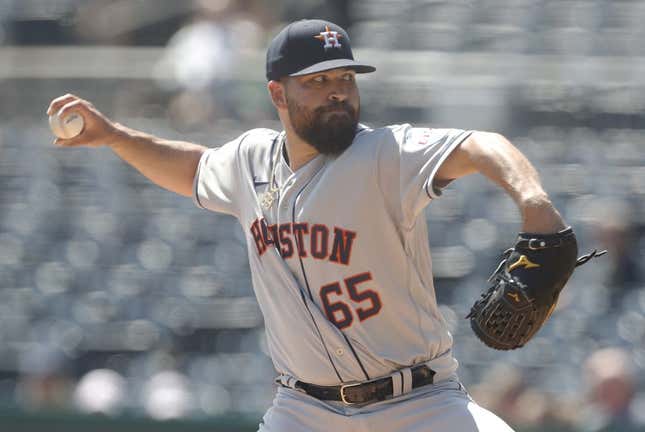 Even at this early stage of the season, Houston Astros manager Dusty Baker is paying attention to his team's sub-.500 record
Does Jimmy Butler have the best NBA Finals origin story? | Agree to Disagree
The Astros have had a losing record since falling to 2-3 by dropping the opener of a three-game home series against the Detroit Tigers on April 3. They are 8-9 on the season, but their 9-2 win over the Toronto Blue Jays on Monday gave them a victory in a series opener for just the second time in six tries
The series continues Tuesday night in Houston.
The Astros entered the current three-game set with a 1-3-1 series record, with their lone series victory coming on the road against the Pittsburgh Pirates last week. It was the only other time Houston won a series opener, which leaves Baker hopeful
"That's real important because it starts with one," Baker said. "It puts you in position to win the series if you split now or even sweep the series. We always talk about winning that first game of the series. We just hadn't gotten it done yet.
"We're just trying to find some form of consistency. Right now, we're kind of treading water. Sometimes you've got to tread water until you start swimming."
Right-hander Jose Urquidy (1-0, 2.35 ERA) is the scheduled starter for the Astros on Tuesday. He tossed six scoreless innings in a 7-0 victory over the Pirates on Wednesday, allowing two hits and three walks while recording two strikeouts
Urquidy is 2-1 with a 5.73 ERA over four career starts against the Blue Jays
He finished 1-0 with a 5.06 ERA in two appearances against Toronto last season. In a home start against the Blue Jays last April 23, he allowed two runs on six hits and one walk with three strikeouts over 5 2/3 innings. He finished with a no-decision in the Astros' 3-2 loss
Six days later, Urquidy got the win as Houston prevailed 11-7. He gave up four runs on seven hits in five innings, with one walk and six strikeouts.
Right-hander Chris Bassitt (1-2, 7.63 ERA) has the starting assignment for Toronto on Tuesday. He is coming off a loss his last time out, although it was his best outing of the season.
On Thursday, he surrendered two runs on four hits and three walks with seven strikeouts over six innings in a 3-1 setback to the visiting Detroit Tigers. It marked the first start of his three this season in which he didn't give up a home run.
Bassitt is 3-3 with a 4.30 ERA over 11 career appearances (10 starts) against the Astros
In his most recent appearance against Houston, on July 6, 2021, while with the Oakland Athletics, Bassitt allowed six runs on eight hits and one walk with six strikeouts over 4 1/3 innings but did not get a decision.
Blue Jays right-hander Kevin Gausman had allowed just three earned runs over his first three starts this season before the Astros ambushed him for seven runs in the first inning on Monday
Gausman's ability to pitch into the fifth inning despite his early struggles saved the Blue Jays' bullpen, which was important in a series opener, his manager said
"Credit to him for giving us a little bit of length and keeping it right there after the first," John Schneider said. "It's just a team that was really hunting a specific location. A couple of mistakes, too, in the middle of the zone. Yeah, that was an uncharacteristic first for Kev."
--Field Level Media