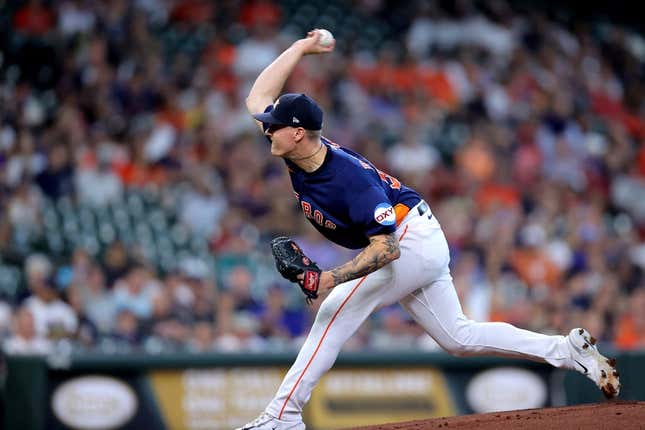 Hunter Brown was born in Detroit and attended Wayne State University in that city.
How running an NFL team is like running a restaurant | Chef Emeril Lagasse
He'll get his second opportunity to pitch at Detroit's Comerica Park as a visiting pro on Saturday evening. The Houston Astros right-hander will start the middle contest of a three-game series against the Tigers.
Brown made his first career appearance at Detroit last season, holding the Tigers to two runs and five hits in six innings. He made his 2023 season debut against Detroit at Houston on April 3, giving up four runs and six hits in 4 2/3 innings.
Brown (9-9, 4.50 ERA) got roughed up in his last start on Sunday, allowing six runs and eight hits in 2 2/3 innings in a 7-6 loss to the Seattle Mariners.
"I think they were pretty much just all over me from the start," Brown said. "Then you kind of mix that in with poor execution — it's not going to be a good day for you on the mound."
Brown, who pitched two innings of scoreless relief in his previous outing, has a 6.39 ERA in his last 10 starts.
"I can still produce the same pitch shapes and velocity that I'm accustomed to," he said. "I feel good about that. But at the end of the day, you've got to be able to perform. So how you feel I don't think necessarily matters as much as being able to produce."
The long ball has been an issue for Brown — he's given up nine home runs in his last six starts.
Detroit will go with its ace, left-hander Eduardo Rodriguez, on Saturday.
After nixing a trade to the Los Angeles Dodgers, Rodriguez (9-6, 3.03) has delivered three quality starts in his four August outings. In his last start, he held the Cleveland Guardians to one run and four hits in 6 2/3 innings in a 4-1 victory Sunday.
He threw 33 fastballs among his first 43 pitches.
"All the time I feel like if I can go the first time through the lineup with all fastballs, that's a big win for me," Rodriguez said. "If I show them everything early, it's going to be tough the second and third time through."
Rodriguez pitched against the Astros on April 5, allowing four runs and six hits in 4 2/3 innings. He's struggled against Houston throughout his career, going 1-5 with a 7.34 ERA in nine starts.
Detroit won the series opener Friday in stunning fashion. The Tigers were limited to one hit during the first 8 2/3 innings.
They tied the game with three consecutive singles off Astros closer Ryan Pressly before rookie Parker Meadows blasted the first homer of his career to give his team an improbable 4-1 victory.
"I saw a hanging slider," Meadows said in a postgame interview. "I was able to take advantage of it."
Meadows was called up from Triple-A Toledo in the week. He has started four games and reached base in each of them, along with playing stellar defense in center field.
"You can't script it any better for the first week of his career in the big leagues," manager A.J. Hinch said. "He's handled this all so well."
The Astros have lost six of their last eight games.
—Field Level Media