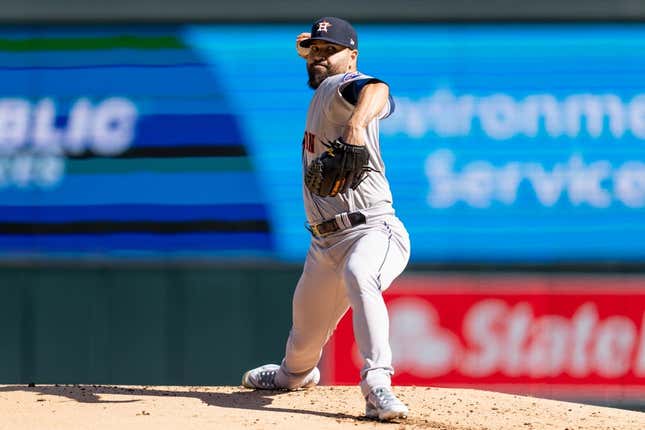 The highs and lows on Tuesday represented a microcosm for the Houston Astros, who failed in their latest bid to get their first series win of the young season
'Soccer fandom is full of gatekeepers' says Ted Lasso actor Brendan Hunt
After smacking two home runs to stake right-hander Cristian Javier to a two-run lead and rallying with a pair of runs to pull even in the top of the ninth inning, the Astros fell 7-4 to the host Pittsburgh Pirates after closer Ryan Pressly surrendered a walk-off, three-run home run to Ji Hwan Bae
The Astros split their season-opening four-game series against the Chicago White Sox then dropped the first two games of three-game sets against the Detroit Tigers and Minnesota Twins. A victory behind ace Framber Valdez in the series opener at Pittsburgh on Monday set the table for Javier to get the Astros over the hump, but timing wasn't in their favor
Alex Bregman, who slugged his first homer of the season in the first and had a multi-hit game when he came to the plate in the ninth, could not continue the momentum established when Chas McCormick delivered a two-run double off Pirates All-Star closer David Bednar. Neither could first baseman Jose Abreu, who finished 1-for-5 and struck out to end the ninth
That Pressly was beat on a two-strike changeup, not exactly the best pitch of his exceptional arsenal, added an extra measure of bitterness to the defeat.
"A lot of these games we've had opportunities, especially late," Astros manager Dusty Baker said. "And one hit away or one pitch away -- we've just got to keep plugging. That's all you can do
"This is a tough one, especially the way we came back against their All-Star closer."
Houston will start right-hander Jose Urquidy (0-0, 3.86 ERA) in the rubber match Wednesday. He opened the Astros' six-game road trip by allowing one run on seven hits and one walk with six strikeouts over 5 1/3 innings but didn't factor into the decision of a 3-2, 10-inning loss to the Twins last Friday. Urquidy will make his first career appearance against the Pirates
Veteran left-hander Rich Hill (0-1, 10.00) has the starting assignment for the Pirates. He did not factor into the decision of his last start after allowing seven runs over four innings in the Pirates' 13-9 comeback victory over the Chicago White Sox on Friday. Hill finished 8-7 with a 4.27 ERA over 26 starts with the Boston Red Sox last season
Hill is 3-2 with a 3.11 ERA in 12 career appearances (eight starts) against the Astros. He allowed four runs on six hits with one strikeout over three innings in his lone start against Houston last season, taking a 6-1 loss on Aug. 3
Bae hit the third of three home runs for the Pirates, the second coming off the bat of Ji Man Choi in the sixth inning. It marked the first time two Korean-born teammates homered in the same game in major league history
--Field Level Media