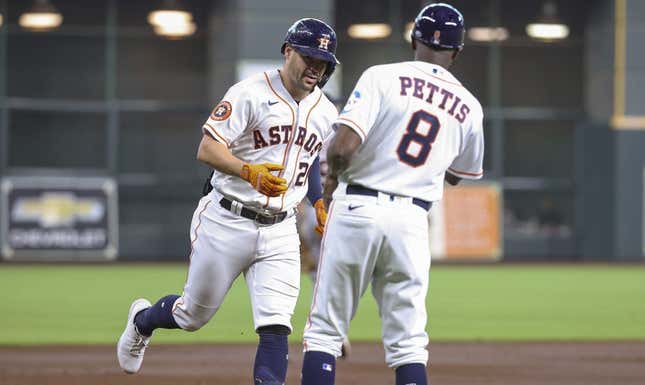 The Houston Astros stumbled into Pittsburgh having lost five of their previous seven games, but they looked more like the defending World Series champions in the series opener Monday
Air Jordans are more American than McDonald's French fries | Deon Cole's Ultimate Sports Fantasy
Now the Astros will be looking to win three in a row for the first time this year when they continue their three-game series with the host Pirates on Tuesday night
"That's two in a row, and, hopefully, we can add to that (Tuesday)," Houston manager Dusty Baker said.
The Astros have been without star second baseman Jose Altuve, who had surgery for a broken right thumb after he was hurt in the World Baseball Classic
Altuve is with the club in Pittsburgh, but that is not considered to be any sort of indication that anything has changed.
In the meantime, Baker, after using shortstop Jeremy Pena to bat leadoff in Altuve's place, has switched to center fielder Chas McCormick after Pena hit .171 in that spot.
Baker said he wanted "to take some pressure off" Pena.
So far, so good.
McCormick is 3-for-9 the past two games atop the lineup. He had four RBIs Sunday against Minnesota, and a day later, he got on base twice with a double and a walk and was successful on a sacrifice bunt.
Meanwhile, Mauricio Dubon, who is filling in for Altuve at second, was 3-for-5 Monday with an RBI single and extended his hitting streak to six games.
Pittsburgh had won five of six before Monday, but found the defending champs difficult to handle.
The Pirates also were dealing with the news that budding star shortstop Oneil Cruz is expected to miss up to four months after having surgery on Sunday night for a broken ankle he suffered in a collision at home plate earlier in the day
On Tuesday, Houston right-hander Cristian Javier (1-0, 3.27 ERA) is scheduled to start opposite Pittsburgh right-hander Mitch Keller (1-0, 3.86).
Javier is coming off a strong performance Wednesday against Detroit. He picked up the win after allowing one run and five hits in six innings, with five strikeouts and no walks.
Javier has never faced Pittsburgh.
Keller, who likewise has never faced the Astros, parlayed a strong second half of 2022 into a spot not only in the Pittsburgh rotation but also as the team's Opening Day starter
He didn't win that first start, but came back Wednesday to beat the Boston Red Sox to finish a Pirates series sweep, giving up one run and four hits in seven innings, with seven strikeouts and two walks
It was a bonus considering the Pittsburgh bullpen was a little overtaxed that day.
"Mitch was outstanding," Pirates manager Derek Shelton said. "For him to give us seven strong and finish was really important. Outstanding work from him.
Only two Red Sox players reached base in Keller's first five innings, and he struck out the side in the fifth, part of a stretch where he retired 12 hitters in a row.
"Just attacking the zone," Keller said. "The cutters to lefties were great. Sinkers were great to righties, too. Just filling it up, trying to throw as many strikes as possible."
--Field Level Media