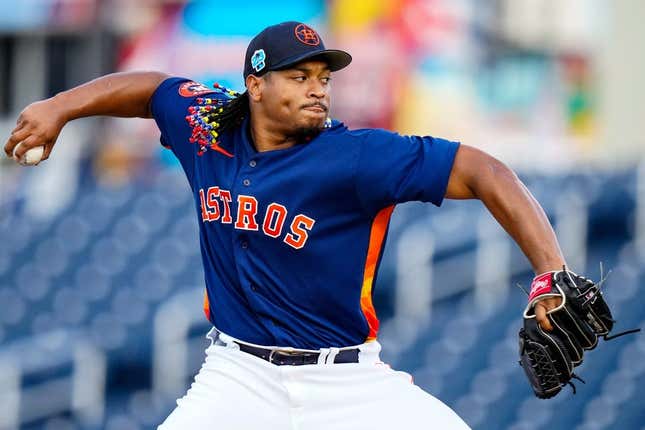 As MLB players and fans ease into the new look of baseball in 2023 with its multiple rules changes, there's at least one pitcher who will appear to be just a shadow of his former colorful self.
Is Texas or Florida State a bigger national title contender? | Agree to Disagree
Houston right-hander Luis Garcia will take the ball for his first start of the season when the defending world champion Astros square off against the visiting Chicago White Sox on Sunday in the finale of their four-game season-opening series
That's because in previous years, Garcia was instantly recognizable with his windup routine -- a balletic dance of balance, shifting limbs and a "rock the baby" move -- before an explosive delivery to the plate.
With the pitch clock in effect across MLB in 2023, Garcia has had to tone down his pre-delivery routine to throw a pitch in the 15 seconds allowed by the pitch clock with runners not on base.
Garcia was an undrafted free agent from Venezuela when he made the jump from Single-A to the majors during the pandemic-shortened 2020 season.
And he's been a stalwart in the Houston staff since, making 57 starts and compiling a 26-17 record and a 3.57 ERA. He posted a 15-8 record with a 3.72 ERA in 28 starts last season.
In spring training, Garcia worked to shorten his windup, eliminating the rocking motion with his shoulders, and taking just one step instead of two before finally making his downhill move to the plate.
"His stuff is going to be pretty much the same," Astros pitching coach Josh Miller told MLB.com before the season. "It's worked out pretty good for him so far in his major league career.
The Astros will look to Garcia to control the dangerous bats of a White Sox lineup that has kept the first three games of this series interesting
The White Sox will counter with 32-year-old right-hander Mike Clevinger, who is looking for a fresh start of his own in Chicago
Clevinger owns a 51-30 record and 3.39 ERA with Cleveland and San Diego. He went 7-7 with a 4.33 ERA in 23 appearances (22 starts) with the Padres last season.
The White Sox signed Clevinger to a one-year, $8 million deal in early December. But the deal appeared at risk in February, after allegations emerged that Clevinger was being investigated by MLB after accusations of domestic abuse raised by the mother of one of his children
But on March 5, the league said in a statement that Clevinger will face no discipline after an investigation that included interviews with 15 individuals, including Clevinger himself and the woman.
He will need to control an Astros lineup that includes Yordan Alvarez, who has five hits in 11 at-bats with five RBIs so far in the series
In the season opener on Thursday, Houston's bats were no match for the brilliance of Chicago right-hander Dylan Cease, who struck out 10 Astros over 6 1/3 innings as the White Sox won 3-2
On Friday, Houston outlasted White Sox starter Lance Lynn for a 6-3 victory. Saturday, the Astros pieced together 10 singles and a double, and their bullpen held on for a 6-4 win
Chicago's first-year manager Pedro Grifol defended his decision to replace tiring reliever Joe Kelly in the seventh with Jose Ruiz to face the dangerous Kyle Tucker with the game knotted at 3-3.
Tucker sliced a blooper into right field, just out of the reach of Oscar Colas, allowing Tucker to drive in what would end up being the winning run.
"Our guys are going to have to -- and they know it and they are all in on it -- at times they are going to pitch in innings, maybe they haven't pitched in the past," Grifol told The Athletic.
"I took (Kelly) as far as I was comfortable taking him. That's the first time Joe has finished an inning and gone back out in a long time."
--Field Level Media