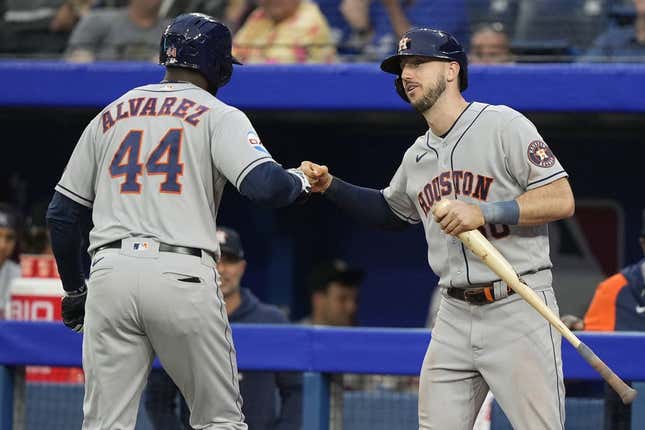 After their first several weeks of the season were marred by injuries, the Houston Astros finally appeared to build momentum
How running an NFL team is like running a restaurant | Chef Emeril Lagasse
Eight-time All-Star second baseman Jose Altuve returned from a right thumb fracture that cost him 43 games to begin the season. Houston received surprisingly effective performances from three pitchers thrust into the rotation due to attrition: Brandon Bielak, Ronel Blanco and J.P. France.
Houston's offense, powered by the left-handed bats of Yordan Alvarez and Kyle Tucker, made enough incremental improvements that the club climbed a season-high 12 games over .500 at 26-24 on June 5.
One week later, the Astros returned home from a seven-game road trip that yielded two victories and a pair of series defeats. They will open a nine-game homestand on Tuesday against the Washington Nationals in the opener of a three-game series matching the 2019 World Series participants
The Astros concluded a stretch of 17 games over 17 days with a 5-0 road loss to the Cleveland Guardians on Sunday, capping that run with a 9-8 mark
Altuve returned from an oblique injury and played four games on the road trip, missing the first two contests at Toronto and the finale at Cleveland. Alvarez missed the series against the Guardians after landing on the 10-day injured list with right oblique discomfort.
For every step forward the Astros take, an unexpected injury pops up and knocks them back. Four of the Astros' last six losses have come by one run
"(We) lost some tough games," Astros manager Dusty Baker said. "When you lose some tough games, that chips away at you. You knew that was going to be a tough part of the schedule.
Rookie right-hander Hunter Brown (5-3, 3.69 ERA) will start the series opener for the Astros. He has lost consecutive starts, allowing eight runs on nine hits and five walks with 13 strikeouts over 10 2/3 innings against the Minnesota Twins and Blue Jays. Brown had only one loss in his first 10 starts this season, pitching to a 3.12 ERA and .664 opponents' OPS
Brown is making his first appearance against the Nationals. In four career outings (two starts) against the National League, Brown is 0-1 with a 4.38 ERA and 16 strikeouts over 12 1/3 innings
Left-hander Patrick Corbin (4-6, 4.89) has the starting assignment for the Nationals. He absorbed his first loss since May 9 on Wednesday against the Arizona Diamondbacks after allowing three runs on 11 hits and one walk with four strikeouts over six innings. Corbin was 3-0 with a 5.01 ERA over his previous four starts
Corbin is 2-2 with a 5.76 ERA over four career starts against the Astros in the regular season but was the winning pitcher in Game 7 of the 2019 World Series. He tossed three scoreless innings of two-hit relief against the Astros, recording three strikeouts while not issuing a walk
The Nationals snapped a six-game losing streak with a 6-2 victory over the Atlanta Braves on Sunday
"It's always good for these young guys," Nationals manager Dave Martinez said of ending the streak. "We played a clean game and played really well. I'm proud of our guys.
--Field Level Media