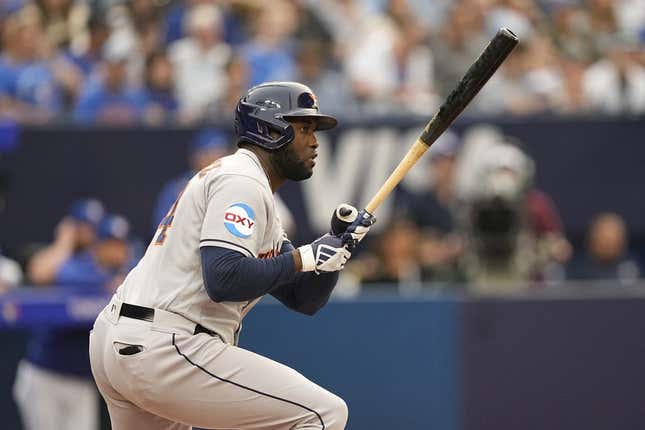 Houston Astros slugger Yordan Alvarez will be sidelined at least four weeks with the oblique strain that landed him on the injured list on Friday
Is Texas or Florida State a bigger national title contender? | Agree to Disagree
Astros general manager Dana Brown gave the update during an interview on SportsTalk 790 AM on Wednesday
"It's going to take at least two weeks for us to get a feel for how it's healing," Brown said. "You take those two weeks and then another week to figure out when he starts to have some activity, and OK, how's his body responding? That's three weeks right there. You're looking at, once he's starting to swing a bat, maybe it's four weeks or so."
Alvarez aggravated his oblique on his final swing in the batting cage before exiting after his lone at-bat in Houston's 3-2 setback to the host Toronto Blue Jays on Thursday.
Alvarez, 25, is hitting .272 with 17 homers and 55 RBIs in 57 games this season.
The American League Rookie of the Year in 2019, Alvarez is batting .293 with 115 homers and 338 RBIs in 425 career games with the Astros
--Field Level Media