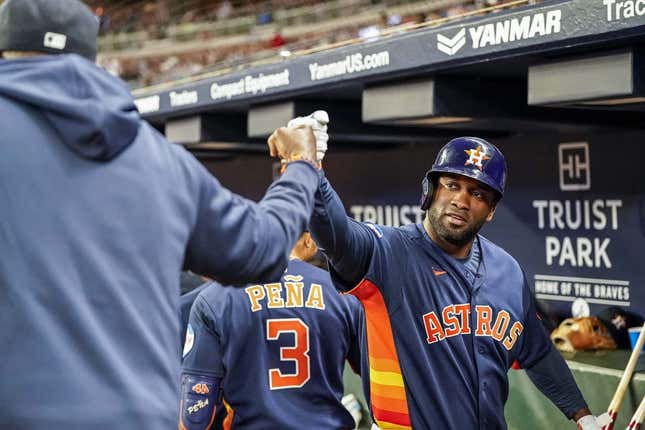 Yordan Alvarez and the Houston Astros will be looking for a three-game sweep when they face the host Atlanta Braves on Sunday
'Soccer fandom is full of gatekeepers' says Ted Lasso actor Brendan Hunt
Saturday's 6-3 Houston win was the second in as many nights in which it came alive at the plate late to overcome a deficit.
Alvarez homered in each of the first two games of the series. Both were two-run shots and put the Astros head. They were his fifth and sixth bombs of the season
Alvarez's home run on Friday came in the ninth inning to secure a 6-4 comeback win. On Saturday, he pushed the Astros ahead in the sixth inning of their 6-3 victory, while Kyle Tucker added a second two-run blast in the same inning
Alvarez has been on base in 23 consecutive regular-season games dating back to last season.
Another Astros player, Mauricio Dubon, continued his own streak on Saturday when he singled in the ninth inning. His 16-game hitting streak leads the league
Houston has scored 20 runs over the last three games, all victories. It's the team's first three-game winning streak of the season and has the Astros above .500 for the first time since the third game of the season
"Try to put it in play any way possible, hope you find some green out there," left fielder Corey Julks told AT&T SportsNet following his 2-for-4 performance on Saturday. "We're starting to click right now. We're looking good, starting to play good baseball on both sides."
Lefty Max Fried (1-0, 1.08 ERA) takes the mound for Atlanta in the series finale, facing Houston for the first time since throwing six scoreless innings and earning the win in the Braves' World Series-clinching Game 6 victory in November 2021
Fried, the Braves' Opening Day starter, was excellent in his most recent outing. He pitched five scoreless innings with four strikeouts in a 2-0 Atlanta win at San Diego on April 17
Cristian Javier (2-0, 3.68) makes the start for Houston. The right-hander has 19 strikeouts through his first four starts, and surrendered only one run his last time out, also April 17, against Toronto.
Javier has walked only four batters combined this season, and went six innings without a walk in a dominant showing April 5 vs. Detroit. He has faced the Braves just once before in the regular season, allowing one run on two hits and a walk with eight strikeouts in a no-decision last Aug. 20
He also made three relief appearances in relief in the 2021 World Series, going 0-1 with a 12.00 ERA after he gave up three home runs in three innings. He surrendered four hits and two walks while striking out six.
Atlanta is trying to avoid its first four-game skid of the season, as well as its first time being swept.
Over the last three losses, Atlanta has scored seven combined runs -- one run fewer than its output in the team's last win April 18 at San Diego.
One bright spot on Saturday at the plate and a potential building block for the Braves' offense going forward was Ozzie Albies, who went 2-for-4 including a two-run homer in the sixth inning
Albies has five home runs this season, with three coming in the last six games. Saturday's blast was his first batting right-handed.
"Felt great. You work on the swing every single day and hope for the best to be there during the game," he said during his postgame media availability. "You go to the plate thinking positive for positive results, and good things can happen."
--Field Level Media