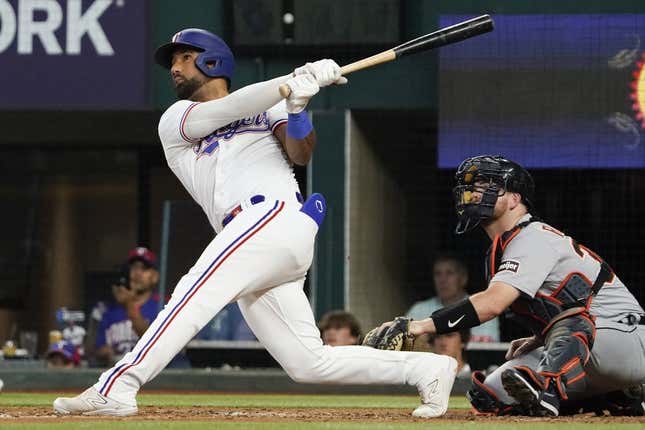 The Texas Rangers and Houston Astros will open a highly anticipated American League West showdown on Friday night in Arlington, Texas
How running an NFL team is like running a restaurant | Chef Emeril Lagasse
The Rangers pushed back veteran right-hander Jon Gray to be available for the opener of the four-game series. The Astros are expected to start right-hander Ronel Blanco
First-place Texas owns a five-game lead over second-place Houston in the division, but the season is just at the halfway mark. The Rangers are coming off a four-game series split with the visiting Detroit Tigers, while the Astros won the final two games to take a three-game road series against the St. Louis Cardinals
The Rangers are feeling good about where they are as they enter the Lone Star Series, having matched the third-best 81-game start in franchise history at 49-32
"You have to feel good about how they've played. It's been fun to watch these guys," Texas manager Bruce Bochy said. "Overall, you have to be excited about this team, how they're playing.
"These guys have just done a tremendous job. They've been through some things -- injuries, tough losses -- but they bounce back. So, great job by them."
Gray (6-3, 2.89 ERA) will make his 15th start of the season and is coming off a tough-luck loss to the New York Yankees on Saturday. He allowed one run on three hits over five innings as the Rangers fell 1-0
In his career vs. the Astros, Gray is 1-2 with a 3.12 ERA over five starts. He faced them earlier this season on April 15 in Houston, exiting in the third inning after taking a line drive off his right elbow
The Texas offense is showing signs of trending in the right direction. In an 8-5 loss to the Tigers on Thursday, the Rangers produced 12 hits but went just 1-for-6 with runners in scoring position
On the bright side, Ezequiel Duran delivered a solo home run, the third consecutive game in which he went deep. Leody Taveras, who also hit a solo home run on Thursday, has nine home runs this year -- seven in June.
For the Astros, Blanco (1-0, 4.63 ERA) will make his fifth start since moving into the rotation on June 1. In his latest outing, a no-decision against the host Los Angeles Dodgers on Saturday, he allowed three runs on two hits with two walks and six strikeouts over six innings
Blanco started the season in a relief role and made two appearances against the Rangers during a series in mid-April. He gave up one run on two hits in a one-inning outing on April 14, then yielded three unearned runs over two innings on April 16
He also opposed Texas on April 25, 2022, when he got one out and gave up one hit and one run.
The Astros scored 10 runs Wednesday and then produced a season-high run total in a 14-0 rout of the Cardinals on Thursday. The latter onslaught included a six-run second inning and a four-run ninth
Alex Bregman hit a grand slam in the blowout, and Kyle Tucker contributed a two-run single and a three-run homer.
--Field Level Media