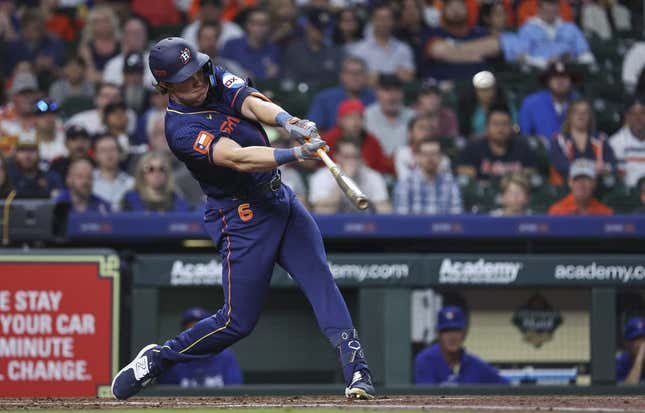 Jake Meyers slugged an opposite-field, three-run home run in a seven-run first-inning and the host Houston Astros rolled to a 9-2 victory over the Toronto Blue Jays on Monday
Will South Beach Flu give the Heat home court advantage? | Keep it a Buck(et)
The Astros ambushed Blue Jays right-hander Kevin Gausman (1-2) with haste, starting with a scorching single from Mauricio Dubon leading off the inning. After a flyout, six consecutive batters reached base, starting with Yordan Alvarez drawing a walk on five pitches
Jose Abreu and Corey Julks produced two-run doubles. Abreu drove home Dubon and Alvarez with his shot off the wall in left-center field before Julks extended the lead to 4-0 with his hit to left, scoring Abreu and Kyle Tucker.
Meyers followed with his 358-foot drive to right, plating Jeremy Pena and Julks with his first home run. All four hits surrendered by Gausman in the first inning produced exit velocities of 95.4 miles per hour or greater, with Abreu, Julks and Meyers all at 105.6 or better.
Gausman, who allowed a total of three earned runs in his first three starts, labored against the Astros. He retired the side in order only once -- in the bottom of the fourth. Julks tagged Gausman again with one out in the third, launching a 424-foot solo homer to left that enabled the Astros to reclaim their seven-run lead at 8-1
Julks and Meyers both finished 2-for-4 with two runs and three RBIs.
Gausman surrendered another extra-base hit, a one-out double to Tucker in the fifth, before departing after getting the second out. He was charged with eight runs (seven earned) on seven hits and two walks with five strikeouts.
Astros right-hander Cristian Javier (2-0) wasn't the picture of efficiency, but he found his groove soon enough to complete five innings and earn the victory. Toronto third baseman Matt Chapman smacked his fourth home run with one out in the second, a solo shot, and Chapman came to the plate with the bases full and two outs in the third in what marked a pivotal moment for Javier
Javier responded by striking out Chapman on a 2-2 fastball, the first of seven consecutive batters he retired to conclude his outing. Javier allowed one run on three hits and two walks with five strikeouts over five innings.
--Field Level Media