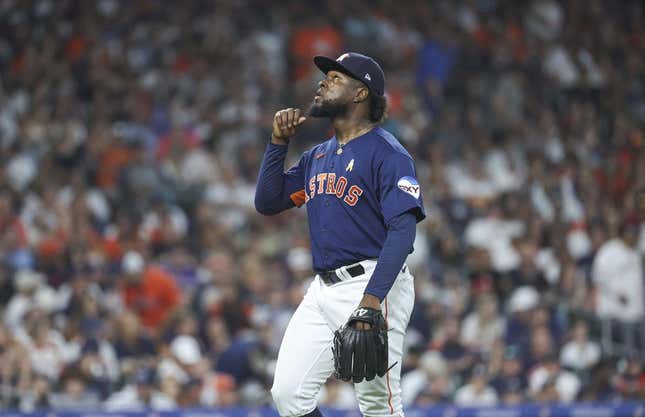 What has been a bizarre stretch of performances at Minute Maid Park continued Friday for the Houston Astros, who followed an impressive three-game road sweep of their rival, the Texas Rangers, with a dud against the disappointing San Diego Padres.
How running an NFL team is like running a restaurant | Chef Emeril Lagasse
The Astros (80-62) seized sole possession of first place in the American League West for the first time this season with their dismantling of the Rangers. They appeared poised to put together a sustained run of exceptional play during a six-game homestand against sub-.500 opponents in the Padres (67-75) and Oakland Athletics (44-97).
Instead, the Astros absorbed an 11-2 beating in the opener of a three-game interleague series vs. San Diego. It marked the Astros' sixth consecutive home loss and their 10th over the last 12 games at Minute Maid Park.
"This was the (second) time we tried to get to 20 (games) over (.500)," manager Dusty Baker said of his Astros, who will host San Diego again on Saturday night. "We'll get there.
"I know we could have gained a game, but at least we didn't lose any (ground)."
The Rangers and Seattle Mariners lost to the Athletics and Tampa Bay Rays, respectively, on Friday, enabling the Astros to maintain their half-game lead over Seattle in the AL West.
Right-hander Cristian Javier (9-3, 4.65 ERA) has the starting assignment for the Astros on Saturday. He was saddled with the loss against the New York Yankees on Sunday after allowing three runs on four hits with eight strikeouts over six innings in what was just his second quality start over his last 12 outings. Javier is 2-2 with a 6.52 ERA since his five-start winning streak ended June 9 against the Cleveland Guardians, a span of 14 starts.
Javier has a 9.00 ERA over two career relief appearances against the Padres, having allowed five runs on four hits and four walks with five strikeouts in five innings. Both appearances came in 2021, including an outing on Sept. 4 during which he surrendered four runs on two hits — both home runs — and two walks with one strikeout in one inning during a 10-2 road loss.
Right-hander Seth Lugo (6-6, 3.49) is the scheduled starter for the Padres on Saturday. He is unbeaten over his last five starts, going 2-0 with a 1.24 ERA and .588 opponent OPS during that stretch. Lugo threw six shutout innings in a 4-0 win over the San Francisco Giants on Sunday, allowing three hits and one walk while notching four strikeouts.
Lugo is 0-1 with a 7.20 ERA in one career start against Houston. He allowed four runs on eight hits and two walks with six strikeouts over five innings in a 4-1 loss to the Astros with the New York Mets on Sept. 2, 2017.
The Padres selected the contract of utilityman Jurickson Profar on Friday, eight days after he signed a minor league contract with his former club. Profar spent three seasons (2020-22) with San Diego before signing as a free agent with the Colorado Rockies last offseason. The Rockies released him on Aug. 27.
How the Padres utilize Profar down the stretch remains to be seen. His primary position, left field, is occupied by Juan Soto, and Manny Machado made his 21st start as the designated hitter Friday. Profar has experience in the infield, but opportunities might be limited.
"A little left (field) if I can DH Juan," Padres manager Bob Melvin said. "The tough part is with Manny, it's tough to get a DH in there. He (Profar) may play a little first base too, pinch hitting. We'll see where it goes."
—Field Level Media